Vogue- The September issue part two.

For the introduction, go back to part one, I'm already screwed because no one reads a blog post that goes past 100 words or a tumblr post beyond one shitty line, usually something like, "Summer's heat couldn't keep the past months from feeling like winter", which will be incessantly reblogged because the kids are hoping someone will make a note on the post explaining the meaning (presupposing it has one).

Please take out your September Issues and turn to page 76.

In the index, you will see that on page 406 "IT GIRL" Blake Lively is photographed in Paris. I know that you're tempted to stop reading this blog completely and turn to that page, but trust me, you're going to need a little foreplay before you get into the 400's. Let's foreplay with each other.

If you skip by the gross super dark all black Donna Karan ads (Donna Karan's view of what hell looks like? Certainly mine) you will find yourself on page 80 with a HBG in dark sunglasses. I think they are working the mystery angle. Much like how we couldn't turn right to Blake Lively because our dicks and pussies would explode, maybe Celine believe that we can't see this amazing HBG with HEM. My theory is further supported on 81, where the glasses are a little more translucent. So is the HBG shirt. I approve.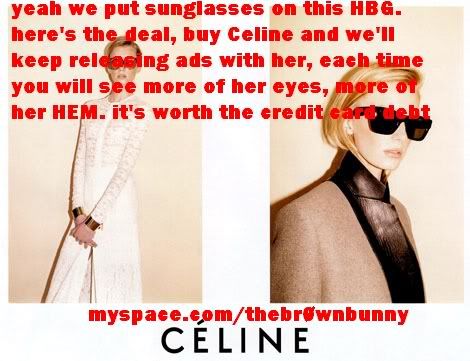 84- A gap ad with a gross looking brunette. The headline, "Do you believe in Magic?" It's pretty much saying, "Brunettes are evil witches, don't trust them, oh and skinny belts are in."
86 says, "Black Magic," but the magic part is white and then, on the next page is a HBG, Anna Jagjodzinska, who, even if she's a product of an evil brunette witch, is still so amazing that I can't say a bad thing about her. Now fold the page out. Clearly they are going left to right on the "Who can you trust" scale. The left being, "Best Friendworthy", the right being, "Will Give You A Parking Ticket Even Though She Sees You Walking To Your Car, Girl."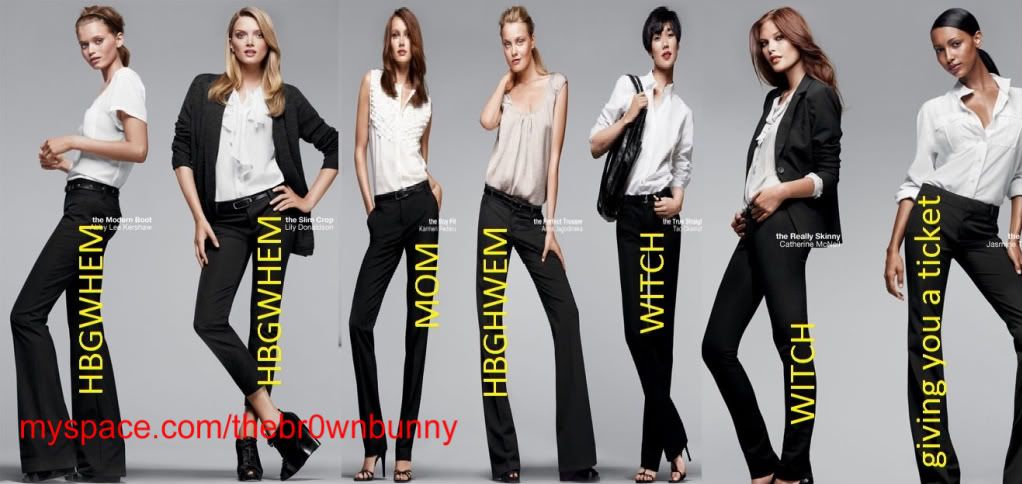 Now skip pages. Skip. Skip. Skip. You'll probably stop at Fendi's ad with the girl in the lace pumps. Don't blame you, I stopped too. It's a beautiful ad, but it's not something we can dwell on here.

Keep skipping. Skip. Skip. Skip. Ohh Alexa Chung for Madewell. Super cute girl super cute collection, but not blonde, remember why we're here, keep going.

Ahhh, finally a HBG in the Vogue.com ad. Because Vogue owns the magazine, they were able to put a bunch of ads for brunettes back to back to ugly brown hair draped back and then BAM. The Blondest HBG you've ever seen. VOGUE.COM. The image is burnt into your mind. It's genius.
On the next page is Jullianne Moore who is not blonde, but she is nude and she's cuddling with baby tigers, which makes this picture almost as cute as a blonde girl. BVLGARI took lemons and made lemonade. Next page, more lemonade.

Right before the next index, appears the Juicy Couture ad which seems to be taunting, "We have these HBGWHEM's in our ad and you have brunettes. You know what, we're so confident we're kicking your ass when it comes to campaigns, we're put them at an Eastery hippie circus. Yeah, we just did that. Oh that's right, you had to stick your brunette vaguely Asian model in a dark room because if you gave her anything else, people might notice the ad and notice that you have a brunette model." The ad continues and Juicy Couture continues it's taunting, "Oh yeah, we'll cover our HBG in butterflies because, guess what, she's a HBG so they just follow her around, we have a ton of extra budget because we didn't have buy butterflies like we would have to for a brunette." Next page, they go all out, "Yeah we gave them a retarded juggler and we're still better. Know what, we'll put in a girl with black hair. Oh no. The girl with black hair needs an umbrella because the unrestrained beauty-shine coming off the HBG is burning out her eyes. Okay gave her an umbrella, look at this multicolored hippie disaster, still better than your campaign."

Here we are at another index page. A Black haired girl is looking out the window, lonely, probably watching the HBGWHEM technicolored hippie carnival that Juicy is holding, "I wish I could be that girl who is getting her cornea's burnt out," she says, jealous.'

Next, skip to the Moschino ad. This seems to be a counter to the Juicy ad where they take their model and dress her up like the most redic golden pirate. PROBLEM- their model is brunette. Moschino ends up looking like shitdicks and their company will close in the next four months.

Burberry has no compassion for Moschino and takes out two pages for their Burberry Beauty Campaign where some lucky bastard is flanked by two HBGWHEM's, one of them being Rosie Huntington-Whitley who isn't as depressed about the Michael Bay info because she's had time to process it since the beginning of the September Issue. Be a HBGWHEM, wear Burberry Beauty.

Page 172, more index (5th index, 7th?) and this is where I will leave you because, frankly, it's been hard to see that many brunettes and I need to go google Taylor Momsen to remind me there's a reason to live.

Stay hot. Stay blonde. Stay in heavy eye makeup.