Sometimes you're in Starbucks on your ipad covertly looking at pornography… Sometimes you're at the food court in the mall, reading the nutrition facts on your Subway napkin that came in the bag with your $5 footlong… Sometimes you're recalibrating your binoculars by using a neighbors apartment across the way as a focal point… Sometimes you're actually using your ipad for something besides pornography. Maybe you're reading the greatest blog of the century HBGWHEM…
And then a nameless Hot Blonde Girl With Heavy Eye Makeup walks by!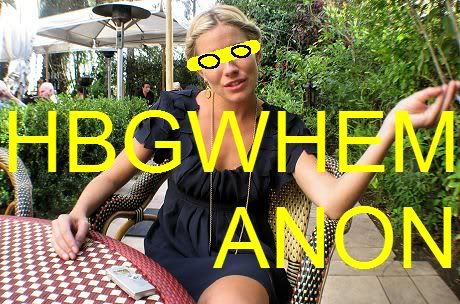 What luck. What a feeling! I imagine it's the same feeling that an Asian person gets when a wild pokemon appears. You don't know her name and she glides past you, not even looking at your footlong, but she makes an impression on you that is better than nutrition facts or pornography*
*as long as the pornography doesn't involve a HBGWHEM.
I had just such an experience when I was on a Continental Express flight from Milwaukee to Newark airport on Tuesday. Things started poorly in the terminal when the family in front of me (brunette daughters… no wonder) were loudly discussing who I looked like. One of the brunette daughters suggested I looked like Jasper Cullen. The family discussed this for a bit, then they all agreed that, "He looks like Jasper if Jasper's face wasn't good looking."
WOW.
Jasper Cullen sorta looks like Jack White, so this family was pretty much saying I'm an uglier version of Jack White. Do you realize how that can depress someone?
Jasper looks like Jack, who sort of looks like MJ (RIP). That means the family was saying I look like a less good looking version of Michael Jackson!
Jasper looks like Jack, who looks like MJ, who sort of looks like the Asian lady who works at the Chinese food place that I get beef and broc at. That means that the terminal family was pretty much saying that I'm a less good looking version of the lady I buy Chinese food from! And even the black guys who go in there for wings don't hit on her and they hit on EVERYONE.




I boarded the plane with my ego bruised so bad that I had to escape, so I dug out my laptop and started watching One Tree Hill (S5 E4 Will Lucas pick Peyton or his agent?). Once everyone got on the tiny jet, it was time for that message where they tell you if you sit in an emergency seat, you're responsible for giving everyone their parachutes if there's an issue on the plane.
While the usual message was going on, I looked to the front of the plane, which was really far away (thanks priceline) and, at the end of the row, tightening the elastic straps on the emergency oxygen mask, was A HBGWHEM stewardess. She never gave her name and had no nametag so that means she's a HBGWHEM ANON, a classification for only the finest in nameless HBGWHEMs.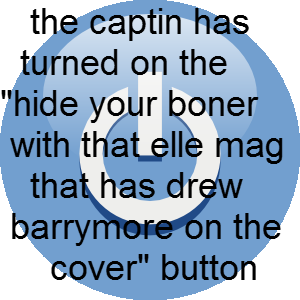 Imagine that! Not only was I about to fly in the air, but I was about to experience the miracle of flight with God's miracle of female perfection, a HBGWHEM.
She may have asked me to turn off all my electronic devices, but I couldn't turn off being so turned on my the HBGWHEM ANON, in the same way that the HBGWHEM ANON couldn't turn off being a HBGWHEM.
For the next hour and fifteen minutes, I totally forgot about being an Asian woman and I alternated between OTH and HBGHEM ANON. when she handed me my OJ, she looked down and watched a second of OTH and, at that moment, those two worlds collided together in a beautiful, sky high miracle.




the guy across the isle from me was with his blonde (makeup-less) girlfriend and he knew better than to make eye contact with HBGWHEM ANON because it was obvious he would break up with his gf right then and there, at 45,000 feet, or how ever high a plane goes, and then the emergency seat person would have to hand out parachutes because it would be domestic violence-fest. With nowhere else to look, the guy watched my laptop for a full two episodes of OTH without any sound. He seemed to be pretty into it too. That, or he was in love with me. I'm no Chad Michael Murray so it was probably the first part.

Both glasses of orange juice that HBGWHEM ANON served me were the best fruit based drinks I've ever had (including the kind with orange Bakardi and an Orange Julius). I wanted to buy HBGWHEM a $9 Redbull Vodka with my credit card, or maybe something from the Skymag catalog, but she was very busy with the drink cart and I didn't want to bother her.
The plane ride on Continental Express was smooth as a dream (good dream, not Inception dream) no doubt because the hand of God himself was guiding the plane, protecting his great creation HBGWHEM ANON.
In conclusion: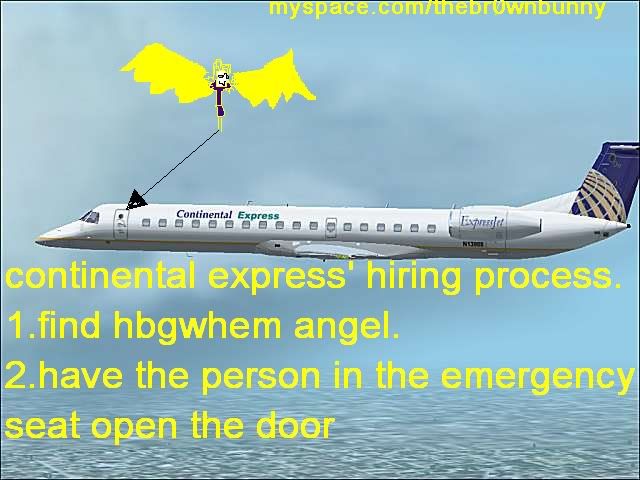 Read more: http://www.myspace.com/thebr0wnbunny/blog#ixzz0vHYaTy8h