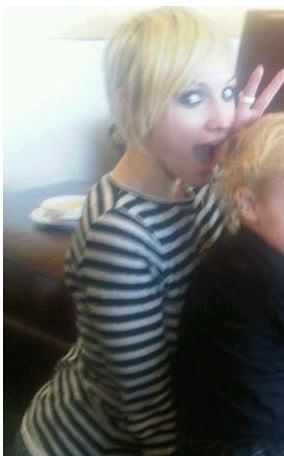 Ashlee Simpson is now platinum blonde.

As you can see from the picture, Ashlee is overjoyed to return to her true identity. Well, besides the whole Wentz hyphen, but that can never be undone, right Laura Dern, Ben Harper, Monica from Friends, Dewey from Scream, XXXtina, and Jason Bratworst or whatever that guy's name is.

All the greats return to their original niche.
Jordan returned to basketball.
Roy Jones Jr. returned to Hip Hop.
LC is returning to MTV.
Tila Tequila has returned to hardcore pornography.
And now… Ashlee Simpson, plat blonde again.

Now I know the haircut is a little short, but, um. SHE'S PLATINIUM BLONDE WITH HEAVY EYE MAKEUP.

I can't really express my gratitude to Ashlee. Out of all of the girls i was obsessed with in the early 2000's, she's been the most well behaved. I haven't had to make excuses for her rehab trips, family channel movies, huge veneers, cocain arrests, DWI's, sextapes, unnecessary Gossip Girl cameos or poorly conceived euro-tinged remix albums- as I've had to do with the rest of my 00'bsessions

We can only hope that the plat blonde will last longer than Melrose Place 2.0 and that Katie Cassidy will see her bff Ashlee (they were bff's on Melrose 2.0, right? That whole show was really a struggle to watch. Wasn't one of the plot points of that show that Ashlee murdered a woman in a pool?) and Katie will return to her proper hair color, plat blonde instead of the mopey Juliet brown she's sporting this season of Gossip Girl
*Editors note: I was not talking about HBGWHEM 2.0 Katie Cassidy who I referenced an unnecessary Gossip Girl cameo by one of my 00bsessions. I like Juliet and I'd like to keep her on the UES.*
*Editors note:Yes, most of the reason why I want her to stay to is to see HBGWHEM 2.0 exist in the same frame as the princess of HBGWHEM Lil J.*
*Side note: Lil J is single and once Juliet is done with Nate…*

In conclusion;


Amazing Grace, how sweet the JPEG, who saved a HBGWHEM like Ashlee.

Read more: http://www.myspace.com/thebr0wnbunny/blog?bID=539900896#ixzz12LowNgrm