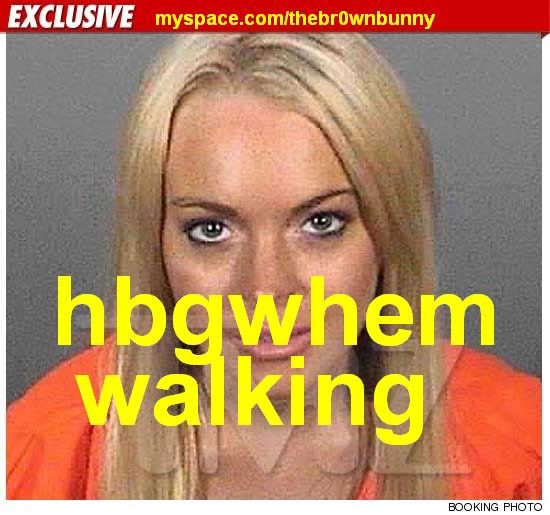 I haven't been this sad since Britney Spears was brought in on a 5150.
In a follow up to our HBGWHEM coverage of the unfair Lindsay Lo trial, it hurts my heart to inform the members of HBGWHEM that there is one less HBGWHEM on the streets today.


At some time this morning (LA has different time than us so I couldn't figure it out. LA uses different time… figures, right?) Lindsay Lo reported to court with her lesbo lawyer (HBGWHEM legal disclaimer: lesbo lawyer nickname is based on speculation and haircuts, not on any concrete fact of sexual preference.) and turned herself in. There were rumors that OJ's old lawyer was going to represent Lindsay, but I guess he realized she wasn't guilty so he dropped out and Lindsay brought the black lesbo back.
Luckily, the judge was nice enough to sign a court order to prevent the image of Lindsay surrendering. The only time a HBGWHEM should be in handcuffs is if she brings them over to your apartment in Newark with a bottle of wine. And even then, they would be furry pink handcuffs with a plastic slide release on the side. I don't think this is what the LA police use.
I could be wrong though, I've never been arrested in LA.


Oh memories.
How about this LA, I will trade you 1 Mel Gibson and throw in the entire cast of The Real Housewives of New Jersey for 1 Lindsay Lo?


Come on you, know it's tempting. Granted, Radar Online would probably hire some high powered attorney to get Mel out of jail because they still have like 16 more drunken "Smile and Blow Me" tapes, but that's besides the point.

You could even tell people that you captured Saddam again. Most American's were too busy Boo-Hoo'ing about Bush to realize that we found him and put him to death, so you Libs can really milk this one. Barry could be like "In exchange for Lindsay Lo, Saddam has agreed to serve the jail term," and everyone would go crazy and then he could give Lindsay a congressional medal of honor and everyone wins.


CHOOSE AMERICA!
HOPE!
CHANGE!
FREE LINDSAY LOHAN!
In conclusion


Read more: http://blogs.myspace.com/index.cfm?fuseaction=blog.ListAll&bID=537344712#ixzz0uGBR4o7Z