HBGWHEM 52.0 Mia Goth.
Dear Blondes, I hope you had a fantastic New Years Eve!!! I bet it was filled with fun and booze and hot guy/girl, girl/girl, girl/Andrej action.
Hi Brunettes, I bet you did some really kewl social justice blogging as the ball was dropping and you were alone, cat by your side, 47 tabs open in Chrome, listening to A$AP Rocky, wearing an oversized men's t-shirt, snuggling with your warm MacBook charger.
    Now that New Years Eve is over, it's 2013.
    Azn people report that 2013 is the year of the snake.
    Think about snakes. 
    What was the first thing you thought of when I mentioned snakes?
    Probably that time you women ate that apple and fck'd us over for ever. Now we have to wear pants because you. I hope it was worth it. You haven't even stuck to your diet. You started out with apples and now you're eating an entire frozen pizza, while surrounded by empty diet coke cans.
    Or maybe snakes make you you think of the time that BritBrit danced with the snake. That was good. She can't dance with snakes now because she has kids. Could you imagine if the snake ate Sean Preston Federline-Spears? Do you know how many people on twitter would make "Did a dingo eat your baby" style jokes? It would be a nightmare. Luckily, Britney would still have the other kid because she really Jessica Simpson'd those youngin's out. Then she bounced back, while Jessica… well she just bounces.
    But probably, most of you, when I said "Snake", thought about this moment: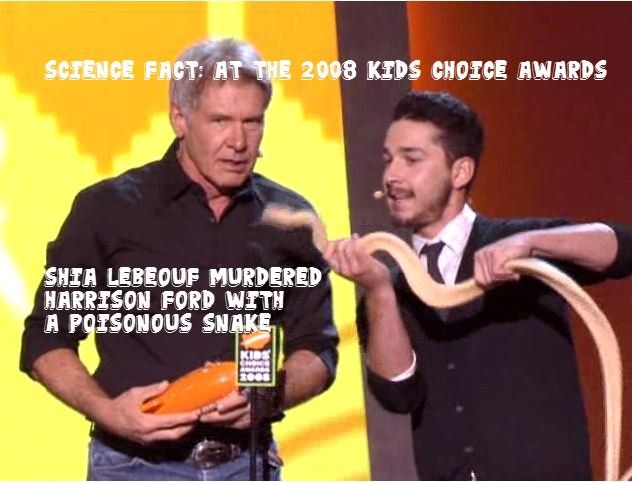 Sorry to bring up bad memories, but, yes, Han Solo was murdered by a snake. He is dead and now Star Wars is getting rebooted by that guy JJ Abrams who is so shit, he made a BAD ELLE FANNING MOVIE. That's like me giving you a bar of gold and you invest it in the New York Jets. ~-~Sports Reference~-~ 2013 blogging. Increasing my fanbase. Covering new ground. Footballs. Superbowl. Touchdown. Redzone. Halftime. Flag on the play. Trade deadline.
     Obviously, we all forgave Shia Labeouf for murdering Harrison Ford because that shit ass Indiana Jones movie they made together was worse than that movie where Harrison Ford was a morning news anchor with Regina George. Lets face it, even if Shia didn't get Harrison, Regina was definitely going to fill his bed with scorpions or something so let's just be happy Harrison Ford peacefully left us, surging with the extra potent venom of that snake that Shia bought from PetsSmart like two hours before the Kids Choice Awards. Sure, it's unfortunate that, in the aftermath, the snake got loose in the audience.
     Shia = good with neutralizing Decepticons, good at neutralizing Harrison Ford, bad at neutralizing a poisonous snake in the isles of a tween award show. 
     I think most of you know this about me, but I'm a Shia Labeouf stan.
     Yes, I, Tom Reagan, am a Beouffont.
     I first got into Shia during that Even Stevens where Shia is dressed as though he was riding penguin, and everyone's eyes are removed, and they become milk fiends, and there is a cloning machine that kept cloning Stevens'. I sat there, atop my penguin, and I was like, "Finally a kids program that deals with REAL WORLD issues." Other than the Saved By the Bell where Slater got AIDS, children's TV usually avoided heavy topics like cloning and milk and eyeball removal in public schools. 
     We all know that Shia is the 5th best actor of all time, the four ahead of him being:
Brit-Brit - Her work in Crossroads. I was SURE she was going to lose her vcard to the Mac guy. She made me BELIEVE it.
Taymom - She was great in GG, except for her ~-~trigger warning~-~ inducing vcard loss. She was also great in that Gus Van Sant movie about sk8ter bois. I don't remember what the name of it was but I think the tag-line was something like, "UR a sk8ter boi, I'll cya later boy, someone has been murdered in a remote part of town, I rlly wanna date a boy." 
Queen Latifa - The white guy is like "I'm gonna do this," and the Queen is like "What, no you ain't," and he is like, "I drive a compact car," and there is a flash cut to a scene of big ass Queen Latifa in the little car and she makes a sassy joke about how the car must be for circus midgets, but the scene gets cut from the final movie because the term "midgets" or "the m-word" is deemed too controversial due to the looming NAAMP (National Association for the Advancement of Midget Ppls) boycott. 
Gemma - Remember when she was in Pirates? Remember in The Strangers when she murdered Liv Tyler (not with a snake)? That was conflicting for me. On one hand I was like "What Gemma wants, Gemma gets," but on the other hand I was like, "NO LORD PLEASE SAVE LIV TYLER NO WHY WHY WHY WHY WHY NO LIV. LIVE LIV!!!!"
   Shia, 5th best actor of all time, starred in two movies with Megan Fox and then they went on this French TV show that had a "That was easy" Staples button that you could hit if you felt uncomfortable and K-stew hit it like forty times when she went on there because she is kstew. When Shia went on with Megan they were like "How do you da perfect kissing?" and Shia and Megan KISSED. It was erotic. 
    After that French boner saga, Rosie replaced Megan Fox in Transformers because Megan Fox might have called Michael Bay "Hilter" and I think like they gave her the Pulitzer for being so accurate with a character assessment. Shia had to move on to other movies and, along the way, he met this girl named Carey Mulligan and they fell in love because Shia probably was a big fan of the play "Oliver Twist".
     It was dark days for being a Boueffant, but luckily they broke up because Shia probably said something like, "Other than the weird ass banana scene, An Education has to be the most by-the-numbers, predicatable, dry, boring, girl-porn, ~-~ohhh da expirences~-~ movie ever." They parted ways because of Wall Street 2. No one left Wall Street 2 unscathed. I think Wall Street 2 was what stopped occupy Wall Street. Everyone was like, "I can't stand there, what if they think I'm filming a sequel to Wall Street 2."
     After the breakup, Shia was once again a FREE MAN, no longer restrained by Indiana Jones, Victoria's Secret Hilter or Oliver Twist.
     He had the world in his hands and then he met MIA GOTH.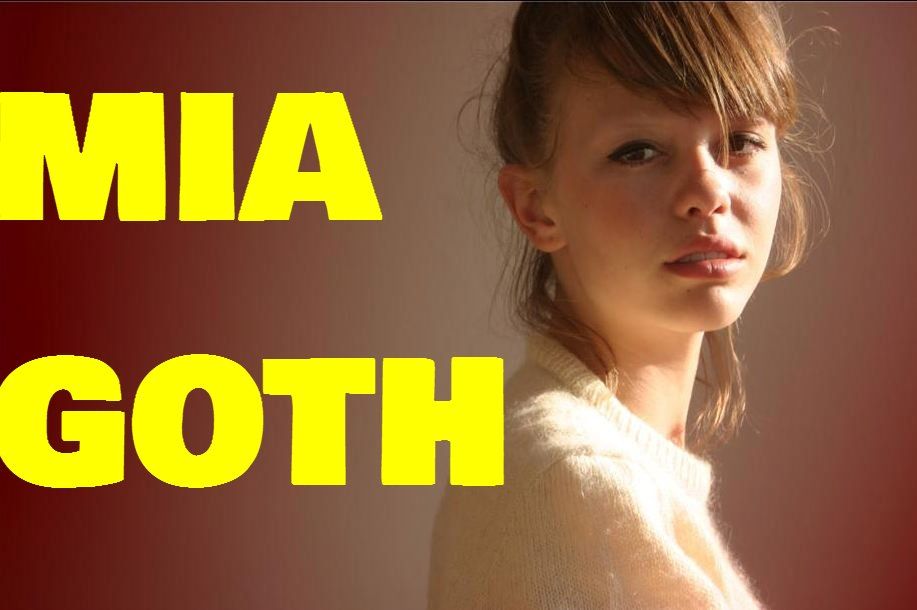 Mia Goth.
     MIA GOTH.
     M1@ G0th.
    DO YOU COMPREHEND THAT NAME?
    2013 Best Name Winner: Mia Goth
    2013 Best URL: Myspace.com/miagoth
    2013 Best All: Mia Goth.
    Shia found a girl name Mia Goth.
    Here is what I know about Mia Goth.
Mia Goth just finished filming "Nymphomaniac" with Shia, Charlotte Gainsbourg (Who was in that insufferable movie about Kiki Dunst having to deal with Oliver Twist's boyfriend from An Education or maybe it was Jack Bower from 24, either way the movie sucked a bag of Mulligans).
Mia Goth is named MIA GOTH.
    Mia Goth is clearly 2013.
    "Mia Goth. Mia Goth. Mia Goth. Mia Goth. 

Mia Goth. Mia Goth. Mia Goth. Mia Goth. 

    Mia Goth. Mia Goth. Mia Goth. Mia Goth. 

Mia Goth. Mia Goth. Mia Goth. Mia Goth."

~ An Unpublished Keats poem
    2013 will be Mia Goth's; and she will share the year with Shia.
    I know what you're asking… 'Tom, have you even seen Mia Goth act?' and to that I say, "Did you hear how amazing her name sounded when you said it? Mia Goth. Doesn't it just feel good?"
    You'll probably follow it up by asking, 'Tom do you know anything about Mia Goth, at all, besides her name?' and to that I ask a question back, "Did you just try to dismiss the name Mia Goth? K1ll Urself. Now."
    You'll probably ask, 'Tom, isn't Mia Goth in the new Von Trier movie and when he was promoTing that horrible Kiki Dunst movie, he said that he related to Hilter. His career was taken away from him, how is he making a movie?' to which I will respond, "No, you only get your career taken away by being a beautiful woman or a gay man and making Hilter comments. Megan and Galliano were blacklisted, but Von Trier has  somehow been Mia Goth-listed. Life is not fair. Life is not fair. The first female prez will be brunette. 2013 is pointless. I am feeling so so so so so so so so Mia Goth."