Estella Warren is my favorite Canadian model.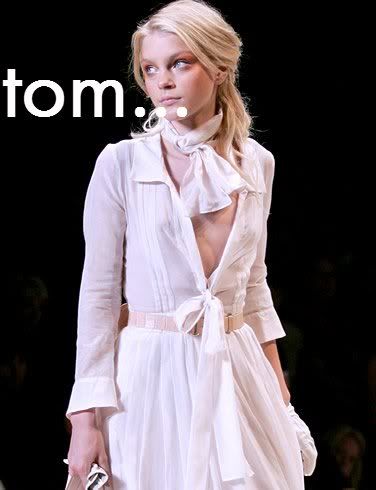 Sorry STAMMY, you're right.
Estella Warren is my second favorite Candian Model.
She looks like if Fat Gemma and Candice S. had a love child.
She hasn't worked in a longgg time so don't be like, "Oh Tom your taste is so shitty, you like this bad model, and then you have the nerve to claim that Devon Aoki and Steve Aoki are the same person with a detachable beard."
I happen to like Estella Warren for sentimental reasons (I had a computer in my room as a kid and it wasn't connected to the internet so I would download pictures of Estella Warren on my parent's dialup modem on the "family computer" and then transfer them to the computer in my room by a 3.5" disc. Yes. I bet 100% of the people reading this don't even know what one of those discs is (unless you go to a public school in the Midwest/South, then you probably still use them at school all the time.)
(pictured: FAPDISC 3.1)
I went and saw Estella's movie Planet of the Apes the day it came out in the theaters at the Camillus mall for $6 and it was a movie and Estella looked hot so that was that. It was one of the first movies where Marky Mark starred as a leading man and it was also the first Tim Burton movie where he was like Fuck Yes! I can just take a movie that's already been made, put my wife/gf Helena in it and then make a shittier version then it will be a huge hit. And he's been doing it ever since. I don't remember Johnny Depp being in the Planet of the Apes movie, but I can pretty safely assume that he played every single monkey that wasn't Helena Bonhem Carter b/c that's just how Tim Burton's hack factory works.
I BOUGHT THIS FOR YOU ESTELLA.
I sort of lost track on Estella after that. She was in Ghost Whisperer once. Do you watch Ghost Whisperer? I mean the reruns since they canceled it (b/c JLH's Tits Got Too Saggy? The world may never know). Anyways I saw her on an episode and I was like, "I still wouldn't mind whispering my ghost in Estella Warren" which obviously means she still had, 'it'. And by 'it' I mean a body I'd like to have sex with.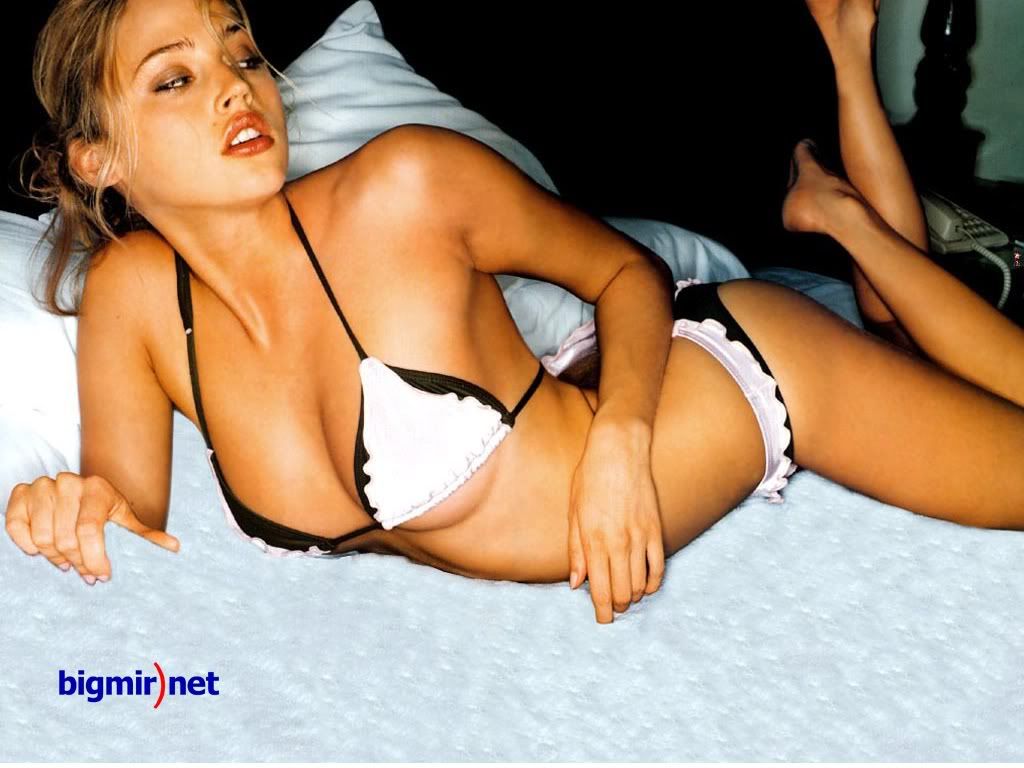 I also saw her on an episode of SVU, but I don't remember what she played so we can all assume it was a sexual assault victim. If you're a girl and your name isn't Mariska and you aren't  that hottie boom botty who is the blonde prosecuter and you've been on SVU, odds are someone did something pretend gross to you. So Estella obviously didn't shy away from controversial roles.
Oh and she was on the deleted scenes from Mr. and Mrs. Smith aka the movie where Brad Pitt was freed from his jail sentence of having to wake up next to Jennifer Aniston aka Naggy Mc Bitchvoice aka Forever Alone.
But no one is ever like, "Damn did you see the deleted scenes on Mr. and Mrs. Smith? They are AWESOME. We need to find that HGBWHEM who was acting with Adam Brody. It just doesn't happen.
Estella Warren recently came back into my life when I was watching the new Dr. Dre video and in the middle there is this obvious theft of the Kate-O-Gram from Mcqueen and I was like "Fuck you, Dr. Dre. Who is this stupid bitch trying to steal shit from the Queen I will hunt her down and kill her and bathe in her blood".
Here's the Kate Video here and the rip off Dr. Dre video here. The Dre video is only 8 minutes long, not excessive or anything.
Then I googled and found out it was Estella Warren in the hologram and I was like, "Oh that's chill. She looks pretty. I'm happy to see  an old friend." BTW how terrible is Eminem on that song? RAHRAHRHHRHAHHHHH MEANVOICE MEANVOICE I'M SO FUCKING MEAN THAT I JUST WANNA SCREAM AND I'LL DO THAT SHIT AGAIN.
I thought that the Dre video was the last I'd see Estella for a while because she had that tentenacy to pop in and out of my life, but no, i was wrong. I was so very wrong because only a month later, Estella Warren became a HBGWHEM SUPER HERO.
Apparently, Estella Warren got shitfaced (hot, fun, awesome, yes please, guess my invite got lost in the mail).
THEN-> BEFORE midnight.  Yes that's right, Estella go so shitfaced she was like, "Party is going back to my place!" even though it was still super early. Instead of calling a cab, Estella was like, "BITCH I SURVIVED A PLANET OF APES, I THINK I CAN DRUNK DRIVE HOME."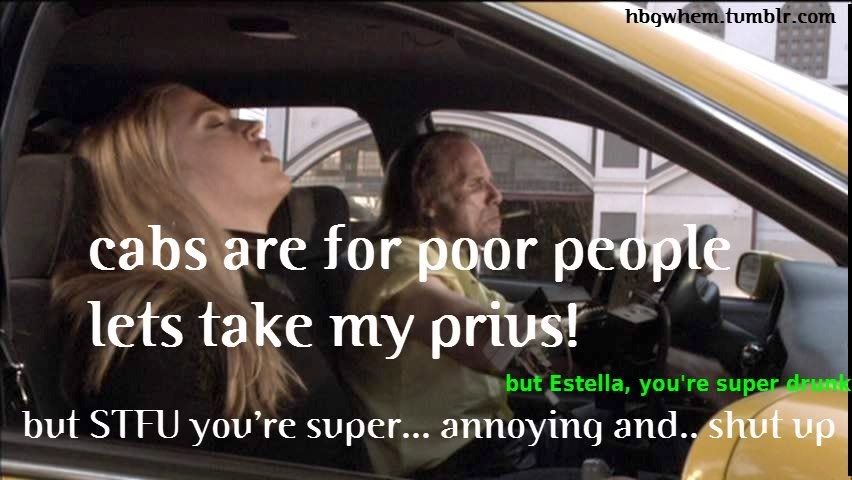 Turns out she couldn't drive home and she hit a parked car. Then another parked car. Then another parked car. In her Prius.
THEN-> Drove away.
Okay, that sounds kind of bad, but look at these pictures of her with heavy eye makeup.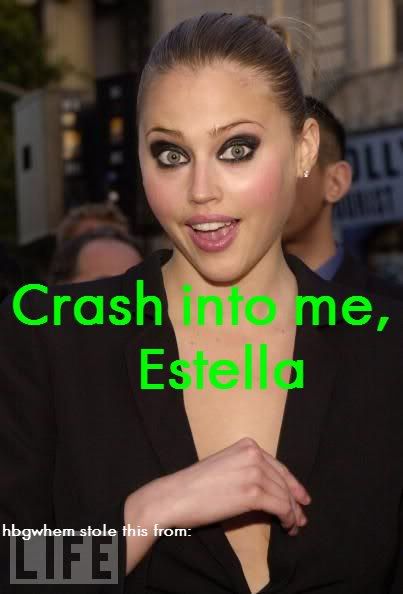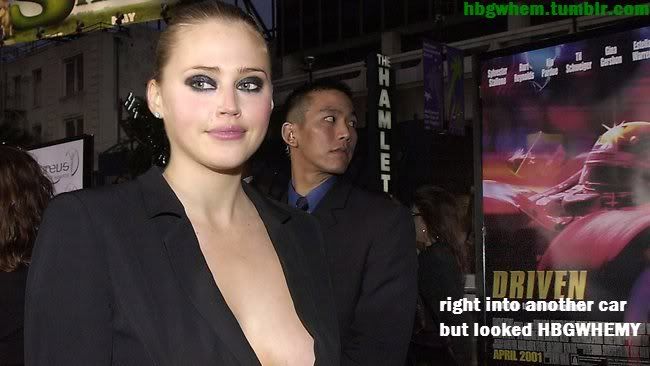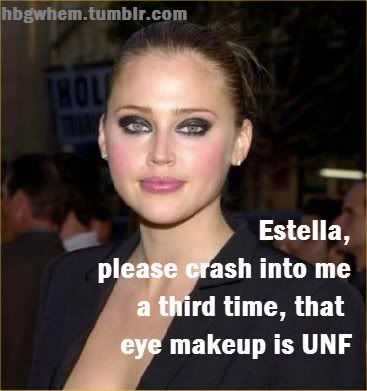 There. Not so bad. I bet you will be driving in your car today and you will think, "I wish a heavily eye makeuped Estella Warren would drive into me, I wouldn't have her arrested. I'd just ask for a picture. And not a picture of the car for insurance purposes, a picture together for bragging/wanking purposes.
So, apparently, a cop saw Estella do this so she was arrested for driving under the influence. It was obvious the cop didn't see that it was HBGWHEM Estella and she needed to turn around so show him so she kind of… ninja kicked a cop. Ops. He was like, "I Need a Doctor" lol. B/c of… oh never mind.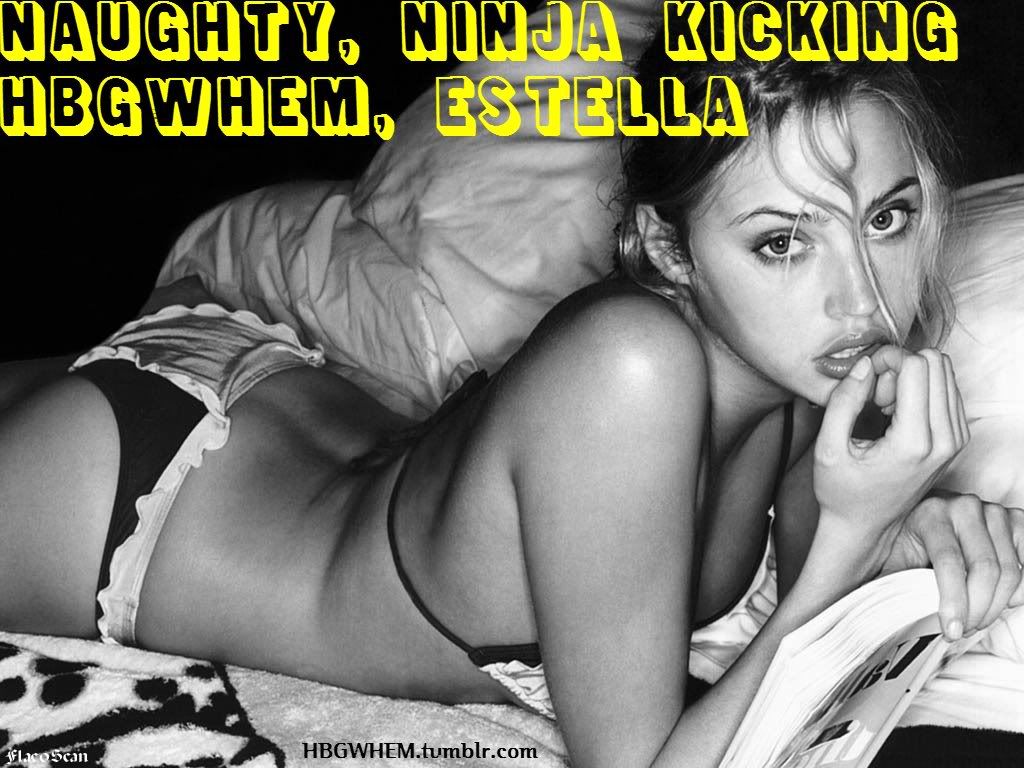 Then-> Estella was taken to the police station for booking.
Then-> SHE ESCAPED THE HANDCUFFS. WTF.
Then-> She ran out the back door. LOL.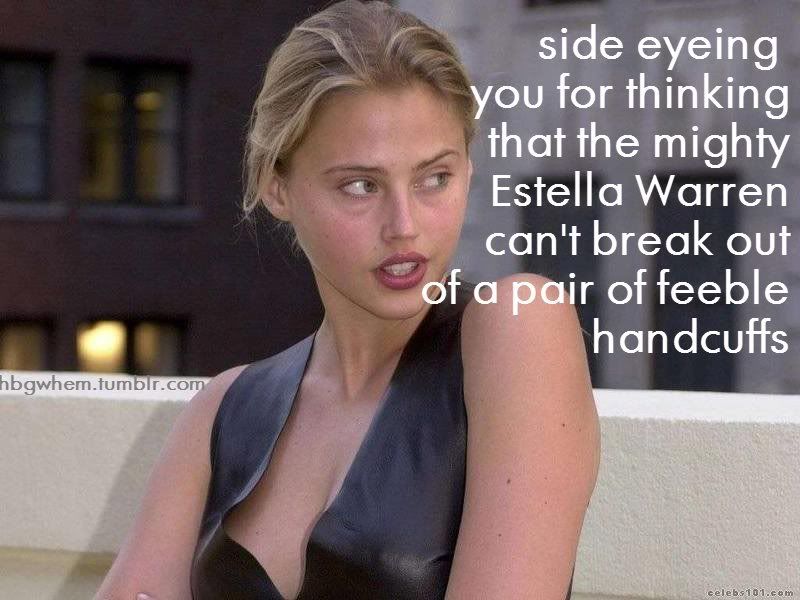 Then-> She was recaptured =(
Then-> She had to spend 15 hours in the police station where her bail was set at $100,000 and she was booked for: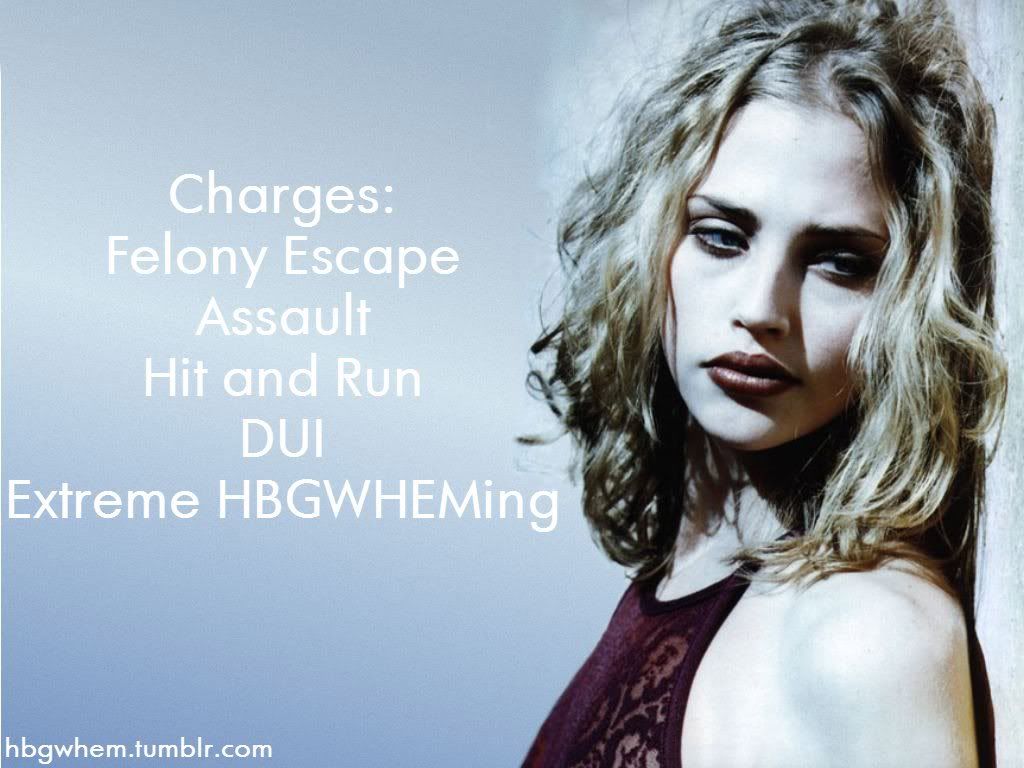 Here's my favorite quote from TMZ's coverage: "As one law enforcement source told TMZ … 'She was really hammered'."
So, in conclusion, your honor, I ask that you release Estella Warren into Tom's custody and she can serve her sentence in Tom's crappy ghetto apartment.