Lindsey Lohan is HGBWHEM 1.0.
   The original.
   Like, okay, remember how the entire last season of Vampire Diaries, every character ever (even some of the dead ones) said, "But Clous (Claus? That can't be right. He didn't deliver a single present all season) is an original, he can't be killed," and it was a big deal and everyone was pretty afraid of Clous like how'd you'd be afraid if you worked at a butter factory and saw Paula Dean cresting over the horizon?
Wow. I just google imaged "Butter Factory" so that I could photoshop a Godzilla-like picture of Paula Dean attacking the butter factory, but, turns out the Butter Factory is a club in Singapore.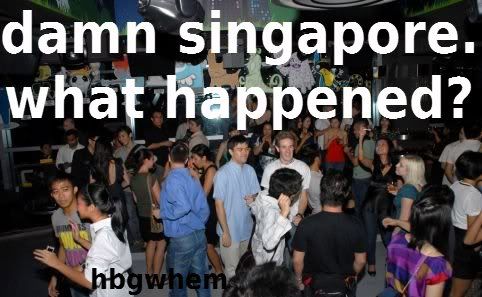 How shitty does the Butter Factory look in that picture. I bet you could find more fuckable people in an actual functioning butter factory.
   Since Lilo was the original HBGWHEM, when she started getting into trouble, I gave her a new number because I didn't want her pure 1 tainted by the fact that the media and the police and the court system and the drug testing lab and the witnesses and her parents and the ankle braclet ppl are ALL conspiring against her (what, it's a more believable conspiracy than the assholes who think we knocked down our own towers).
Here's a quick review with some links so you can get up to date on the case (LOL JK it's just so you can look at the pics and admire Lilo's beauty)
   In 4.0 we discussed a lawyer I have grown to love, Shawn Chapman Holley.
   In 4.1 we introduced the court case.
   In 4.2 I was contemplating killing myself because I didn't want to live in a world where Lindsay was always getting shit so that post was short.
   In 4.3 We celebrated Lindsay being out on bail.
   In 4.4 I had a good time because I got to say "Cunt" a lot, even though I promised to be a journalist this year. It was part of the facts and I just report the facts. I'm a journalist. A serious journalist.
   MMMmmmmMMMMmmmMMMMMM.
MMMMmmmMMMmmmmmMMMMM.
   MmmmMmmmMmmmmMMMMMMM.
   Oh. Hey the computer is still on. Okay, back to work.
   Anyways, here we are at 4.5
   Much has happened since we last Left lindsay.
   She wore this to court and I was like arrest her for being too hot.
   She wore this to court and this fat person was like: I don't know which gender I am but I hope it's the one lindsay is into this week.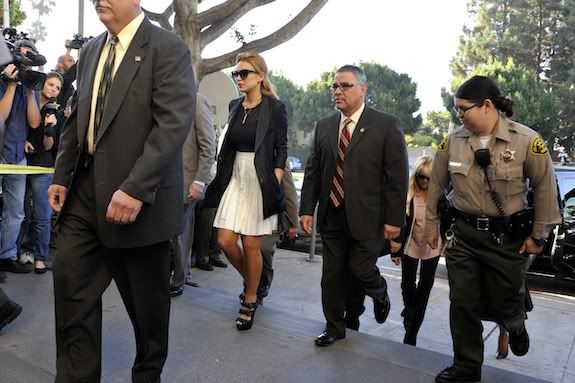 She wore this to court and I was like did angels comb your hair? It's perfect!
   She wore this to court and I was like "that cowl neck can't hide those amazing boobs linds!"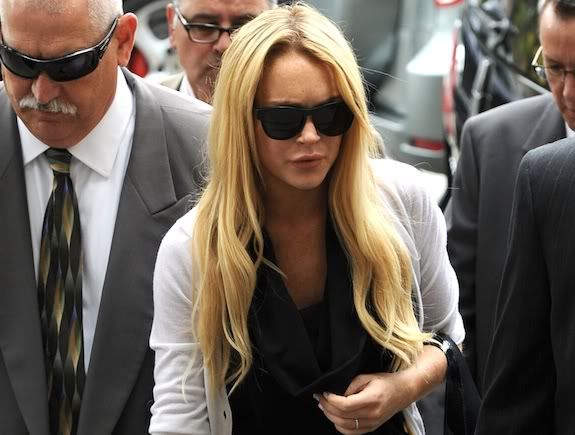 Also she got sentenced to jail, but w/e she didn't go there she got house arrest which basically looks like the most fun thing ever. Can I be on house arrest? Am I on house arrest and I don't know it. I only leave my apartment to mail netflix or go to work or to buy my one meal of the day. Does that count as house arrest? Could I be on house arrest with Lindsay? Could we play good cop, bad parolee? What if she was to steal my good cop handcuffs. What if she was to chain me to the bed. What if she was to take those freckled thighs and bring one leg over so she's straddling me and then she pulls…
   Um. Awkward. I'm just going to post an image here to distract you.
   Everything was going fine until…

   Someone made her drink alcohol at gunpoint???
   Someone injected her with alcohol while she was sleeping. NOT PASSED OUT. Just sleepy from a hard day of being innocent and sweet and HBGWHEMy.
   Someone said, "Try this distinctly non-alcoholic beverage that helps orphans" and Lindsay said, "Okay" and tried it, but unbenounced to her, it was alcohol.
   Someone switched the urine test cup!!!
   Someone poured alcohol in Lindsay's urine stream as she was peeing out of her vagina into the testing cup!!!
   How could people be so evil to trick/force/pee ambuse LILO into such a terrible future.
  I mean, there is a chance that HBGWHEM 1&4 drank alcohol and violated her parol, but Tom can't fathom this happening and…
   There will be 4's.
   There will be many fours, but I know, someday, I will be writing HBGWHEM 1.X about Lindsay Lohan accepting her Oscar for best actress for her portrayal of Elizabeth Taylor in a bio epic that also wins best picture!!! Can't wait for you, 2014! Eat a dick 2011.
So in summary: