There was an earthquake, or tsunami, or both, in Japan. I don't know how a tsunami works, mostly I just see the name on energy drink cans. There might be lightning bolts in a tsunami; there usually are on the cans of tsunami drink. It's not just an energy drink though, it's also a weather thing that did a ton of damage in Japan. iPod Touches will probably cost a million dollars now. HBGWHEM Stock Tip: Invest in iPod Touches.
   This is a very sad thing and I'm not going to joke about it (unless I think of good jokes while I'm writing this), but I had to bring it up because, earlier in the year, a natural disaster happened in Australia. It was the worst disaster to happen to Australia eve- wait- it was the second worst disaster to ever happen to Australia, I think we all know what the first is…
   I know what you're thinking and YES, Gemma Lee is okay. YES, Gemma Ward is also A-O-K. YES, Jessica Hart is in mint condition, I just had dinner with her for Valentines Day. YES AbbeyBaby is fine, except she's a little bruised from when HBGWHEM LARAAAA pushed her to SAVE HER FROM A TSUNAMI LIGHTNING BOLT (More on that later).
   I waited a while to write this to make sure that Gemma Lee and my other Australian loves were okay and now HGBWHEM has confirmation that they are better than okay, it's time to discuss what happened.
   There was a flood.
   Not the type of flood that we needed to put all the animals in a boat, but it was close.
   Gemma Lee lives on the continent of Australia. She is the most famous pop star there, just like she is in the far superior in every way besides girls, country of the US.
   Australia is one of those continents that is an island. It does not have to share it's name like North/South America. I'm not saying it makes it better than America, I'm just saying it makes Australia unique.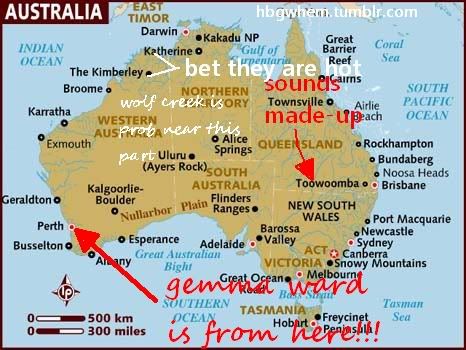 At first, they didn't know what started the flood, but it could be Baz Lurman, the guy who did that cool Romeo + Juliet movie with Leo Decaprio before he got fatface. Baz might have taken some artistic liberities because John Linquezamo was in the movie and I don't think hispanic people were created yet in Shakespearean times. In fact, there weren't enough ladies in Shakespearean times so they had to use guys for their girl parts, but whatever, Baz Luhrman is the guy who did that Moulin Rouge movie where HBGWHEM Nicole (forgot to give her a number the last two posts so now she's HBGWHEM 31. Update your records accordingly) was so good that I watched the entire movie even though it was a musical. All those seem like good things, right? Well, recently, Baz tried to ruin Australia by releasing Australia: the movie. It sucked and it was the worst disaster to ever hit the continent, but Australia came back stronger than ever and made tons of pretty models. It was the greatest comeback since that one Superbowl I watched where the New York Giants beat Gisele's husband and it had long lasting historical impact and it probably sold a lot of t-shirts that sanitation workers wear on the weekend.
   This disaster was much different than what is going on for Japan. As soon as Japan happened, Nicky Hilton (The Unblonde Hilton WGAFR?) changed her icon to a little asian person and she started tweeting about how it ruined her night of having zero responsibilities besides merely eating and breathing. When the flood happened in Australia, here is a sample of Nicky Hilton's tweets-> *I'm a worthless cunt. tee hee. (Okay, I might have made that up. I didn't want to go through all Nicki's tweets, there are a lot of them. I know right? why does Nicki Hilton have a lot of tweets? What's she reporting on? What information does she possess that needs to be disseminated to mass society via short 140 messages? Maybe she did tweet that? Maybe that is the information she's sending out?)
   The flooding was crazy, remember the map I showed you before, well here's a map of the disaster: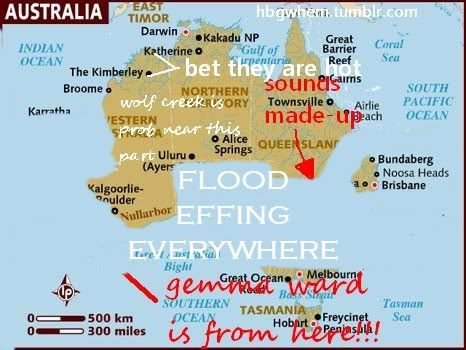 Gemma Lee wrote some journalistic pieces about what happened and it was very scary to read what she was going through, but you know that Gemma Lee is probably, like, immortal or something so floods can't hurt her. Here's a link to her tumblr where she wrote it, I don't want to steal it, I already use her enough for blog hits. Gemma Lee will definately win the Pulitzer prize this year for her reporting. They should just stop bothering with news things because Gemma Lee is already going to win all the awards for news and news related stuff and cute outfits. They should just turn the New York Times into a picturebook or something because their news stories will look pathetic next to Gemma Lee's journalistic triumph.
   Here's a statement from the newspaper who reprinted Gemma Lee's reporting: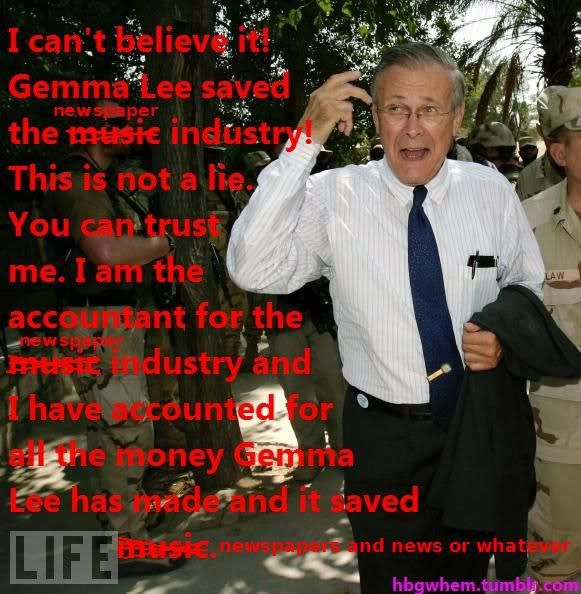 There is probably lots of stuff that Gemma Lee kept out of her journalistic articles because she was afraid it would look like "bragging". Gemma Lee is always so incredibly modest so it's no surpise she would do this. In my head, a lot of the time, I imagined Gemma Lee fighting the flood by putting kittens in little boats to make sure that their lil fur didn't have to get wet.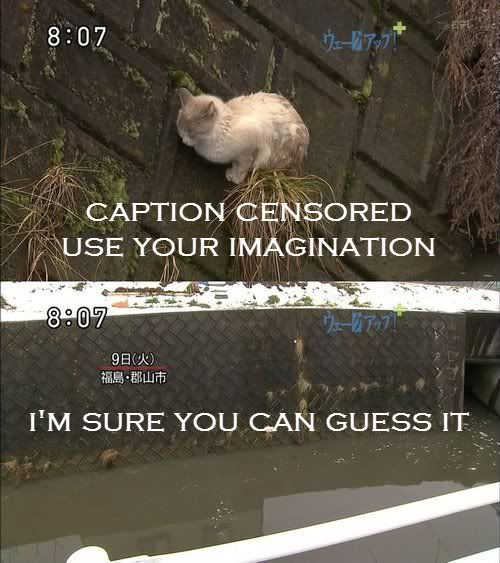 It probably happened.
   But Gemma Lee couldn't save the continent alone, she needed help. Since Nicky Hilton or Sean Penn or Wyclef where unwilling to help, one HBGWHEM who is always ready to help others sprang into action.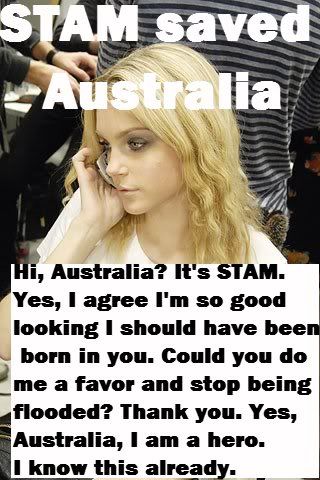 This worked and the flood stopped, but there were two issues.
ABBEYBABY WAS MISSING
and
    2.   I forgot to give ABBEYBABY a HBGWHEM number. 
We easily solved the first issue and made ABBEYBABY, HBGWHEM 32.1, but we still had to find her to tell her the good news.
Gemma Lee was busy being an international popstar so she had to call in a friend to help her.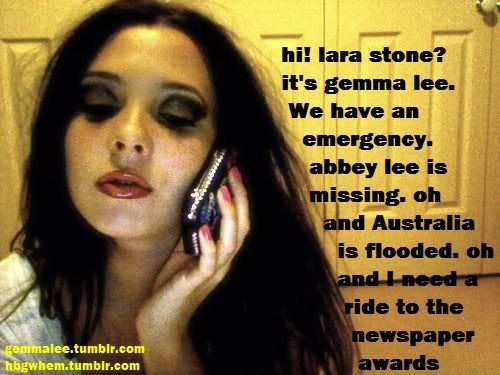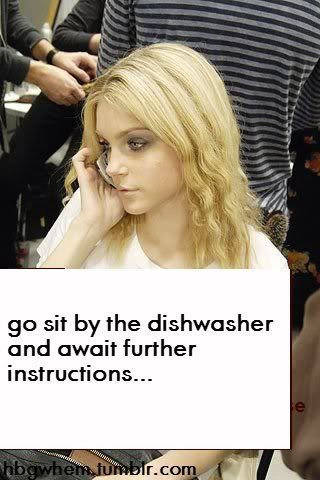 Lara Stone arrived and, with Jessica Hart, then canoed around Australia looking for defensless lil' ABBEYBABY. After long hours of searching, Jessica Hart saw something…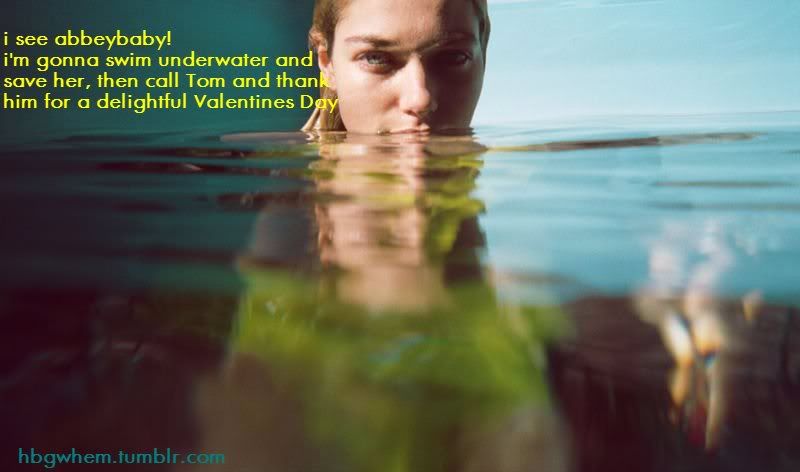 As Jessica Hart was pulling Abbey out of the water, LARAAAAA saw a lightning bolt from the tsunami and she pushed ABBEYBABY out of harms way!
   Everyone was safe and happy!!!!!! (except for Abbey who was also kinda bruised and very hungry for some packs of baby food).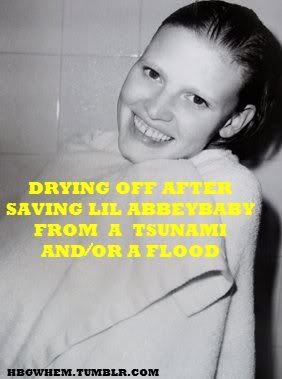 I want to address the tumblr rumor that the world is ending. The world is not ending. Bad floods have happened to HBGWHEMs for thousands of years. Here is a HBGWHEM kit to protect yourself if you should find your country with lots of tsunnamis. (if they are the drink tsumani, you should mix them with vodka and then have a wild night) (if it is the tsunami that is the water one, you need the following: Maybelline Unstoppable smudge proof eyeliner, Dior Backstage Waterproof eye shadow, and a smudge proof lipstick)
I know that the world isn't ending because ABBEYBABY told me in an exclusive interview that she knows why Australia was flooded. Here's the exclusive clip:
Um. Yeah. So it was aliens? So. Um. Okay. Do with that information what you will. Thank you… Abbey Lee… for… whatever that was. Your hands kind of scare me, ngl. BUT YOU'RE SAFE!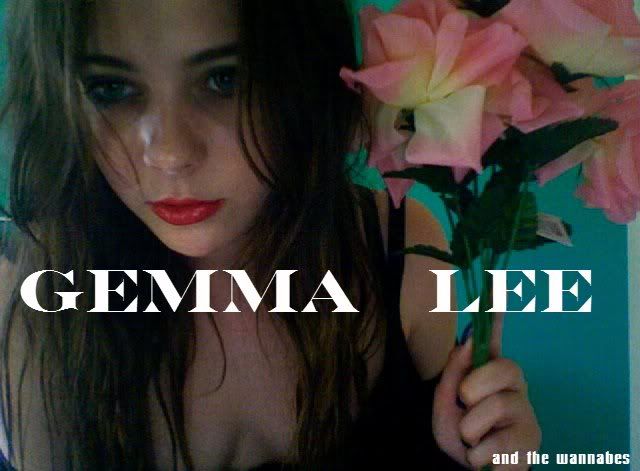 I haven't heard from any of the Wannabees (of Gemma Lee and the Wannabees fame) and that explains the lack of recent leaks.
   My source on the most popular post in HBGWHEM history hasn't sent me any new information. She probably drowned in the flood. But W/e because the group is really just about Gemma Lee and the other people were there because we haven't figured out how to clone Gemma Lee into a full band yet.
   Gemma Lee did leak information regarding her new project:
   And HBGWHEM has noticed that she's been mentioning spending a lot of time with a musician only named as "Nick" in a collaboration that seems verryyy close.
   Who is this mysterious Nick character who is joining Gemma Lee + the Wannabees because all the other wannabees died horribly deaths during the floods?
HBGWHEM has narrowed it down to three musical Nicks.
It could be Nick Cave. He scored a really good Brad Pitt movie called "The Assassination of Jesse James By the Coward Robert Ford". That's a very long title for a movie, but it's worth every letter when you see how good it is.

It could be Nick Jonas. This would be an ideal situation because Nick Jonas lives in New Jersey near Tom and so Gemma Lee can just come to New Jersey and live here and that way I won't have to wait for one of The Wannabees to come back from the dead to leak new information for my blog.

It could also be Nick Lachey. I don't really know what his music is like besides a two episode arch he did on One Tree Hill during season 7 and he seemed like an okay singer and maybe he can introduce me to Shantel from OTH so this would be good too.
   Gemma Lee's project is listed as "early", but it might benefit her to speed up the record cycle.
   Britney just put out the album of the year.
   Here's my last.fm listens from the past week to show just how obsessed I am with this album.
   Even when I dropped hits at the end of the Britney post about someone sending in TIPS I got nothing. Is Britney gaining on Gemma Lee?
   That's not the only HBGWHEM who is working on music right now. I have exclusive information that HBGWHEM… shit. Okay. I also forgot to give Jillian a HBGWHEM number. This whole number system is becom- Jillian is HBGWHEM 33.1. Also, remember these numbers aren't in order of hotness. No one is saying that Jillian is less hot than Wixson, let's not talk shit here.
   Now that that's handled, here's the information I have on Jillian's new album:
Or did another HBGWHEM destroy Jillian's guitar… not naming any names but…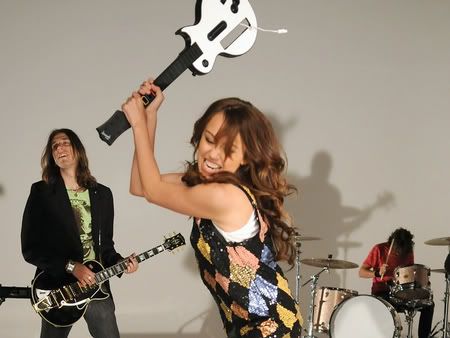 How great is that picture?
   Does Jillian follow Gemma Lee on tumblr? I'm not sure. Does Gemma Lee follow Jillian on tumblr? Does Jillian follow Gemma Lee on twitter? Does Gemma Lee follow Jillian on twitter? Do they DM each other? Did Gemma Lee send secret Nick to kick in Jillian's guitar as a sign that Gemma Lee won't tolerate other HBGWHEM's trying to steal her pop fame? These are questions that can only be answered via the Tip line.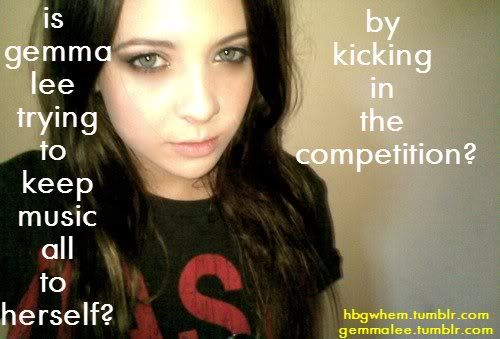 Gemma Lee has successfully stopped the Queen of HGWHEMs, Kate Moss from releasing an album so it will be interesting to see if Jillian's album ever sees the light of day or if her dreams will end up like her guitar.
   Even though we don't have a Kate album, her hubby's new album "The Kills – Blood Pressures" comes out today. I like the Kills and I will support anyone that Kate co-signs, but you have to wonder, will this new album inspire Kate to record her album? Was she serious when she said that she would challenge Gemma Lee?
   For now, the water has receded and Australia survived the flood, just like HBGWHEM Nicole survived being in Australia.
   That doesn't mean the work is done there though…
   HBGWHEM will be taking up a collection where 100% of the proceeds will go to figuring out how to clone Gemma Lee so that the band can be Gemma Lee and the Gemma Lees (partly because this sounds hot) (and partly because all the wannabees drowned).
   Actually no, that above thing was a joke (unless we make enough money to make it feasible) but we are taking up a collection for those (Gemma Lee) who were affected by the Australian flood. Please send all checks to:
                                              Gemma Lee
                                         Brisbane, Australia,
                           Not sure if they have zipcodes or area codes.
and I'm sure the letter will reach her. Know that the money that you send will be invested in the best way possible… buying Gemma Lee this cute shit:
   In the end, Australia has been saved, ABBEYBABY is safe, Lara Stone is dried off, STAM has a high phone bill, Nicole just put out a great movie "The Rabbit Hole", Britney just put out a great album "Femme Fatale", Kate is Kate, Jillian just got a new guitar and: