I was on Radar Online the other day and I was checking up on LILO when I came upon an article about this person named LeAnn Rimes.
I assume she is a country music artist, like Taylor Swift, but older and she hasn't seen as much famous dick or hit songs as Taylor.
To be fair Taylor wouldn't have one without the other so she's in a constant dick/hit battle where she has to think, "Do I really want to bang Donnie Darko… YES. I can write a song called 'Donna Dark-ho' about whatever girl Donnie picks after me. I hope her name is Donna. No, I hope it isn't Donna, I need to make the song mysterious, like the time I wrote all those songs about Selena Gomez's pussy and renamed her Balena Bomez in the song and everyone was like, 'I wonder who she's talking about!?!!' I made a shitload of cash from that."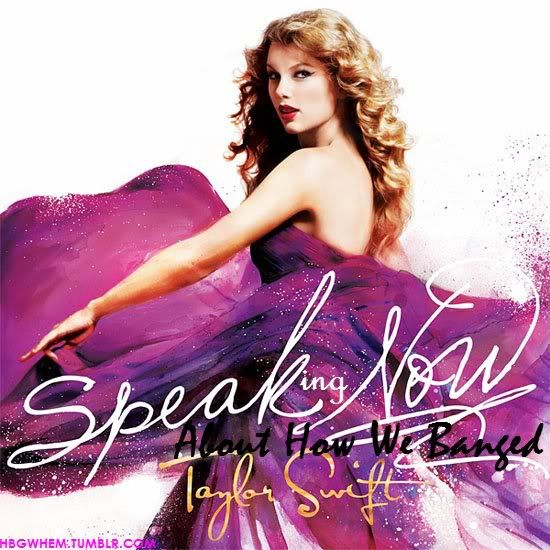 HBGWHEM UNFUN FACT: I was going to buy the new Stars album the day it came out, but I bought the (above) Taylor Swift album instead. I still haven't heard the Stars album and I can't stop listening to "Haunted" off Taylor's album. I suck.
SO I clicked on the article about LeAnn Rimes and it was about how she was skinny and she had to apologize.
Let me repeat she was skinny- good thing- and she had to apologize- bad thing-.
That's like (insert sports person here) having to apologize for winning (whatever sports people win. One time, on the Superbowl, they drove a car onto the field and gave it to a guy.)
Leaan Rhimes drag your old tiny ass over to HBGWHEM because you'll never have to apologize to Tom for being too skinny.
(Even though I've only see 2 pics of you ever) I think that you look the best I've ever seen you look (before and after pics from Radar)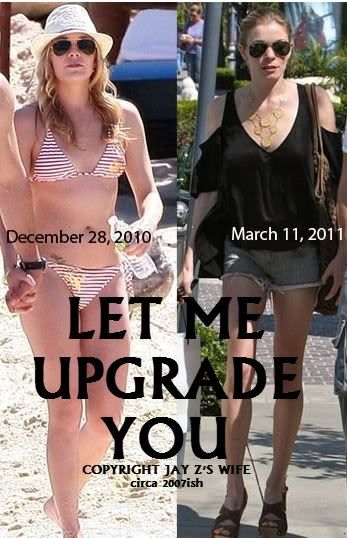 Tom will accept you as you are, LeAnn, you don't have to change for him (As long as you agree to get rid of that necklace)(And those fucking aviators.)

HBGWHEM Style tip: Girls, you look stupid in aviators so stop wearing them. No guy has ever seen a girl and said, "I want to bang that girl in aviators so bad." Never happened. Get your Nicole Richie's, get your wayfarers and I'll be all over you. I want you to look like you're hungover and mad, not like you pulled me over for doing 55 in a 54.
If you're going to cover up your eye makeup, at least do it like this: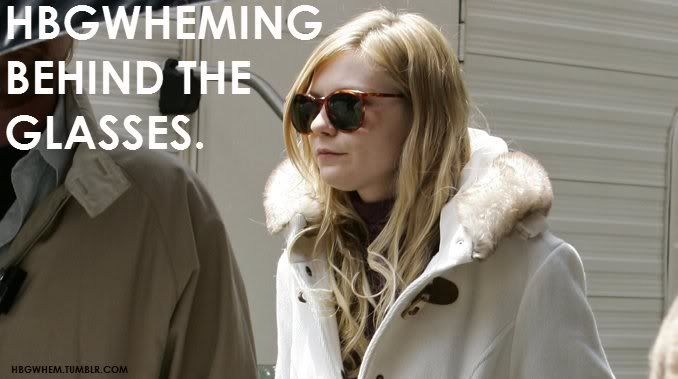 Kween KiKi, thank you for your assistance.
SO This Leann Rimes lady… that would be a good name for a rapper. I wonder if Leann Rhymes is a hot, white rapper. I like that idea. I wish some hot whitegirl would start rapping. Like Ke$ha, but more hardcore. Someone trendy and famous (like a member of the family of which we cannot speak of).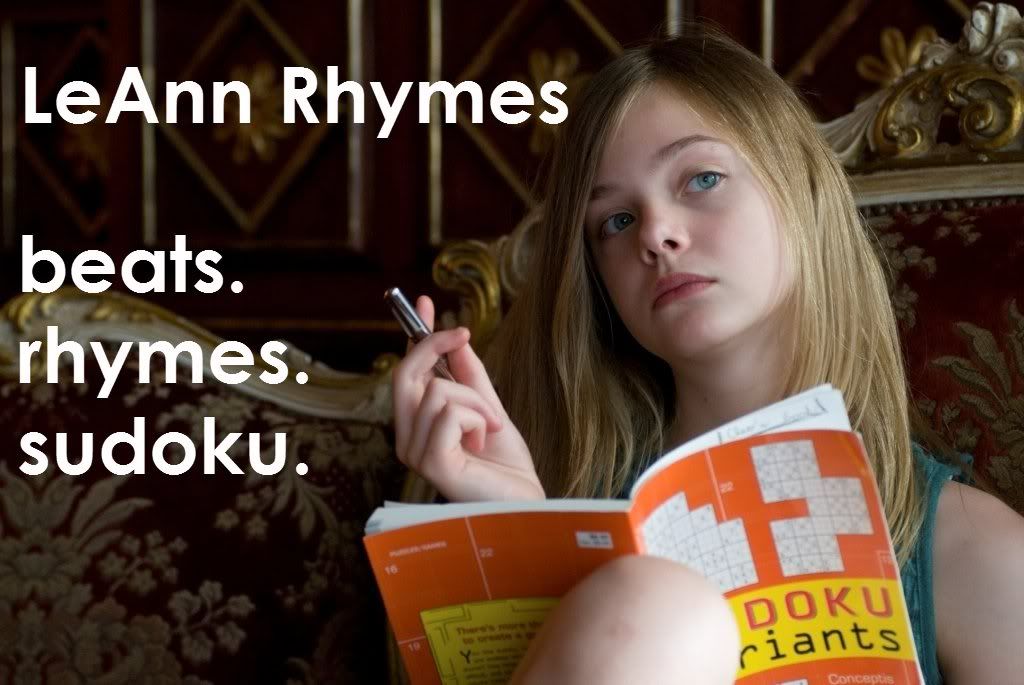 I can't wait for Leann Rhymes' debut rap album. I've heard it described as "If Jadakiss was in the Kidzbop group instead of The Lox, this is the album we'd have."
Maybe this album can knock Gemma Lee and the Wannabes out of the number one spot which they have held now for 340 weeks or however long it's been since Gemma was 11.
SO This LeAnn Rimes lady… apparently she's a naughty girl. I just read that she was shooting a Lifetime movie and with this guy named, like, Rueben Carrera or something ethnic sounding. LeAnn and Reuben were both filming this thing that only fat brunettes will watch seriously and Tom with his blonde friends will watch to make fun of and they fell in love on the set. AND THEY WERE PLAYING BROTHER AND SISTER. I just added that part to make things sound more scandalous so that when you read this part you will be like "Wow this LeAnn is terrible, how come they are getting on her about her weight when she cheated on her hubby with her ethnic Lifetime brother?"
LeAnn, we are totally judging you for that Lifetime movie stuff. Why can't you be like Hayden Panettierre. She does a ton of Lifetime movies and you never hear anything bad about her. In fact, you don't hear anything about her at all. At this point Hayden Panettierre needs to eat Taylor Swift's pussy just to be relevant again.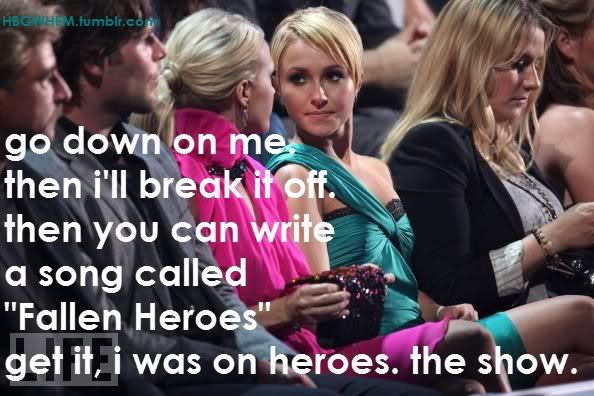 I found a new article about this whole scandal on a place called ivillage.
Of course the users of a place called ivillage are complaining about shit.
If I had to think of a name for a site that grandmas would go, my first choice would be whatsacomputer.com and the second would be ivillage.com
LeAnn said:
"Maybe it's time for a nude pic so peeps can see how I look nowhere near what these stupid pics are trying to make me look like, LOL," Rimes tweeted on Wednesday, making sure to add the hashtag "joke" afterwards.
Wait. So you aren't super skinny? Nude pics or it didn't happen.As far as I can tell, LeAnn, you are skinny and you should let the fatass at ivillage peer pressure you into making statements and empty nudity promises.
Because, as they say on ivillage, TITS OR GTFO.
The article goes onto say:
When fans pointed out that the pictures do make her look extremely skinny, Rimes responded by saying she looks nothing like that in person. Also, she says, she eats all the time.
And then I stopped reading because honestly the more I hear LeAnn talk about this, the less I want to invite her to HBGWHEM.

I suppose that the old adage, "A picture is worth a thousand words" is still true and even a thousand words from a skinny-shamed, Lifetime brother-loving, non-rapping LeAnn Rhymes can't change the fact that she's skinny and hot and blonde.
Welcome to the club LeAnn