There's a new CK video out! I'm sure, yesterday, you came to HBGWHEM so you could watch it and (not) discuss it (because you cunts never use the comment box) but guess what, I didn't find out about it until over twenty four hours after it was released because Jillian kept it all to herself and buried it on her page so that by the time I got home at like five in the afternoon yesterday, there were zero traces of the video and the tracks were covered impeccably (ie. There were some pics of Asian models where no one would think to research further).
   What's the punishment for keeping such important information secret? Do we need to call that Swedish guy from wikileaks and have him go through Jillian's tumblr to find out what else she is hiding? Does HBGWHEM unfollow Jillian, wait five hours, feel like the passive aggressive unfollowing has made it's point and then refollow?
   A couple months ago, yeah, probably, but not anymore.
   The rumors from before are true, Jillian is now a HBGWHEM.
   Here's a video to prove it. Just add your own music and you can play this during your dinner parties on big projection screens.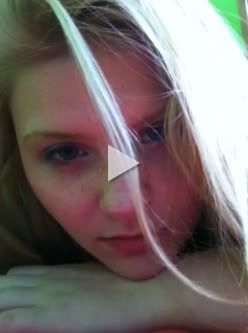 Since Jillian is now blonde, rules and laws that used to apply to her, no longer do. You can't unfollow her. You can't send the wikileaks guy to hack her hard drive. You can't send her a message on anon about her hiding the video, like, "Do you often bury piles of pure gold under piles of Ebony magazines?" You can't get mad at her for keeping the video hidden because, you know what, Abbey Lee and LARAAAA are HBGWHEMs so they wouldn't be mad at her (due to the HBGWHEM code of ethics that prevents HBGWHEM on HBGWHEM violence) and neither would we. You can't get mad at her for posting Asian models even though no one likes Asian models and I think Daul is the only one that's ever even tried to be blonde, but whatever, she likes them and now she's blonde enough to have unpopular opinions that I will fully support. I mean, I'd rather give Crystal Renn a piggyback ride before I posted Devon Aoki, but whatever, it's her tumblr. In fact, I think I follow four of her tumblrs and since I only follow 55 tumblrs, that means that about 14% of my tumblr feed is Jillian related.
   I know that you're probably saying, "Oh tom this is the best news ever, it sounds like everyone who reads HBGWHEM is going blonde. Eventually you'll have a blonde army that you'll be able to hang out with and you will listen to old punk records and drink Heineken's, while you have an underwear party in a loft where the walls are either bookshelves or windows," and, yes, while that is all true, there are still threats. Rogue ideas have been inceptioned into people's heads.
(NSFW- click to enlarge)
   Well, not like that picture, that's what Inception should have been. Could you imagine if Inception was just Kate Moss and she played all the characters and it was just Kate Moss going into Kate Moss' dreams and it was all Kate Moss because no one else is worthy to be in the Queen's head? That would be amazing.
   Have you ever seen that piece of shit, Inception? It's terrible. There is .2 seconds of a blonde person and then she turns into Tom Hardy who is so rubbish I'm ashamed to even share a name with him. I mean whoever did the hair in it should be inceptioned in the tits because Tom Hardy's hair in that movie is beyond awful. And another B.A.B. Ellen Page is in it. Ellen Page sucks so bad that she would sit at Anne Hathaway's lunchtable.
   Anyway, back to the point, someone is Inceptioning bad ideas into Jillian's head and we need to stop it. Now. Before it's too late. Case in point, she recently stated that she was going back to brown because she doesn't like being amazing or some such shit. Hear that? That's the sound of everyone's heart breaking. When they read that, I bet they muted their Jillian video (even tho I don't think it has sound) and were like, "This bitch…." but then we all forgave her because someone inceptioned her and she's a HBGWHEM. Who ever, with their wack ass Tom Hardy hair, inceptioned that into Jillian. Shame on you. Shame.
   And, when you get down to the most basic facts, she did eventually bring me to the video so no need to storm her house in (somewhere in the mid-west, hopefully not in one of the extra creepy states) .
   This second video came about because Calvin Klein himself read my blog and sent out the following internal memo (probably, i'm guessing)
Dear Dickbags Who Made the New Commercial,
   You are all shit. Pack your desk or if video people don't have desks, then they probably use vans so maybe your stuff is already packed, but either way GTFO. We had Abbey Lee, a girl that is so hot half of the female population has turned on her just because she's so skinny, so blonde, so much better than the worthless tumblr slags who try to shit on her. We also had LARA STONE. Do you know how hard it is to get LARAAAA? I sent Tom Cruise's boyfriend on a mission that, frankly, seemed impossible. I told him to steal LARAAA for the new campaign
   So they put out a second video and boy did they get it right. This is not on the level of the 30 second orgasm they released of LARAAAA in the pool/privatejet/glasshouse/convertible/fingeracrossherlipsanddddddicame, but it's still AMAZING.
   It starts out and LARAAA introduces herself and she's like, "I'm Lara Stone and I'm 26 years old," in that sexy monotony slightly Netherlandy voice and I'm like LOL I stalk you, I've memorized your birthday, you're 27, but whatever, it's a great start to a video because it 1. features LARAAAA and 2. Doesn't have SouljaBoy and 3. The room isn't filled with an army of gay bros.
   Then they cut to her doing a big smile and it makes my heart fill with butterlies carrying marshmallows.
   THEN she's playing ping pong with baby Daphne and she's like, "You can be on my team because you have amazing features and I have amazing features and I'm gonna be your mentor like when Michael Jordon did a sports thing and was like, "Kobe Bryant, um do sports good, I'll help you." Sorry for getting all deep into basketball there, but I kind of know a lot of things about everything.
   The ball fell and LARAAAA doesn't even go for it because baby Daphne is already well trained. Of course, at this point, instead of the lovely shot of baby Daphne bending over, the camera pans to the gay dudes who, of course, don't have shirts on because, why would they. The camera quickly pans away, which means that the CK memo might be doing it job and the crew is learning not to film UTTER SHIT when they have supermodels waiting to make love to the camera.
   Then it's LARAAAA getting her makeup done and doing the most smiling I've seen her do in a while. This was before she saw the final cut of the piece of shit 1st CK commercial so she didn't know what a distaster it was going to be.
The camera lady is like, "Oh, LARAAA, you're so pretty," and then LARAAA does a Zoolander bit and it's so cute that everyone in the room dies. Literally, they all died and the camera just falls to ground like the end of The Blair Witch Project, except for it's about LARAAA so all your scared emotions and motion sickness get replaced with a boner in your pants and a boner in your heart. Awww.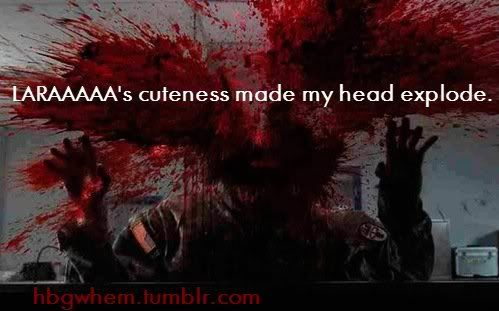 After that, they get a new crew who didn't die of LARAAAA's charm and they put her in a room with Ewan Mcgregor from Transpotting. I'm not sure how they do that part, CGI or something, but I can vibe to trainspotting and everyone in that movie wore t-shirts that were too small and were super skinny so it subconsciously was the basis for my style. HBGWHEM UNFUN FACT: I have the transpotting poster in my apartment.
   To cap it off they start playing every British rock band that was created after the Artic Monkey's and LARAAAAA is in her undies, the utiminate apology for the original commercial.
   They also released an Abbey Lee video that I'm IN LOVE with, but I'm saving that. There has been an Abbey Lee post that I've been building up to for a while, originally because I love her work, then because she went super blonde and now because she seems to be bringing out the worst from some of the biggest scumbags on tumblr so this isn't the last you've seen of Abbeybaby on HBGWHEM.
   I guess everything turned out okay, I found the video, although late, Jillian is blonde, LARAAAA is insanely goodlooking and charismatic and the CK brand has it's prestigue restored.
   And, in the end, aren't we all a sucker for a happy ending.
   And, after the end, aren't we all a sucker for a movie about topless Kate Moss pictures inside topless Kate Moss pictures?