18.3 CK Fucks Up The New Lara Stone Commercial
I hear that there is a new CK campaign that LARAAAAA is a part of. I can't confirm this because my piece of shit March Vogue is still in the containment bag so it doesn't get Gaga on my real magazines.
We discussed LARAAAAA's previous CK commercial during my Golden Globes rundown. If you don't want to read an outdated rundown, allow me to summarize:
LARAAAAA won all the Gloden Globes for the commercial because it's the best CK ad since the creeper sex basement ads that everyone wanted banned because it made them sad they didn't have the disposable income to create their own creeper sex basement and their basement was just a place to store ice skates and those giant packets of salt that you pour into your water softener because you live practically in the country and you have  hard water which gives you dry skin and limp hair. It was impossible to do creepy sex interviews in their basement so they demanded that the commercial be banned or the models had to hold ice skates and fill water softeners while they were asked questions about what they do for fun.
The Abbey Lee tumblr (Love you for ever, Abbey Lee. I hope all the fatso's hating on you have to spend eternity in the last 8 seconds on the new CK commercial. Sorry you haven't seen your cheekbones in years fatties!) posted this new CK video which features LARAAAA.
I was SO EXCITED. In caps. I love LARAAAA in the type of love that is somewhere between unheathly stalker who doesn't write a letter to her and unhealthy stalker who does write a letter to her. Most of what's keeping me from turning into the second type of stalker is the fact that I don't have her mailing address and I don't know how much a stamp costs anymore. I'd pay anywhere between fifty seven cents and $449 for a stamp if I knew it would bring my sweet poetry to the perfect blonde browed eyes of LARAAAAA.
I clicked on the commercial with raw anticipation, "LARAAAAA in motion," I said and "Mew" my cat responded and Miley sang, "I hopped off the plane at LAX/ with a dream and my cardigan" and I was like, "Miley be quiet, not right now. And stop wearing cardigans," and then I muted my itunes. The commercial began playing and my first thought was "Why does Alice Dellal have the same haircut as O-Dogg in Menace II Society?" Is that a thing now? Girls dressing like early 90's fictional gangbangers? Is that Calvin's new concept. I mean, Efff we had LARAAAAA swimming and driving sweet cars and flying private jets and then that UNFFFFY moment when the guy runs his fingers across LARAAAA's lipsssssssssssssssorrry I just came.
Now we have Alice Dellal reinacting Menace II Society? Don't get me wrong, great movie, but it's a massive dropoff from the LARAAAAAA perfection that CK gave us only a month ago.
Then, everything comes together. Abbey Lee, dropping it like it's hotter than LARAAAA on the sun is on the far left, LARAAAAA is in the middle left, shaking it like (whatever that place is that just had an earthquake) and then on the right side there is some lame bitch chinese lady and Bambi? Whatever. Pretty much just pretend there isn't a right side of the video. It's like they went, "Holy shit! We got Abbey Lee and LARAAAA in one video? I bet we could put a chinese lady on the right and now one would even notice."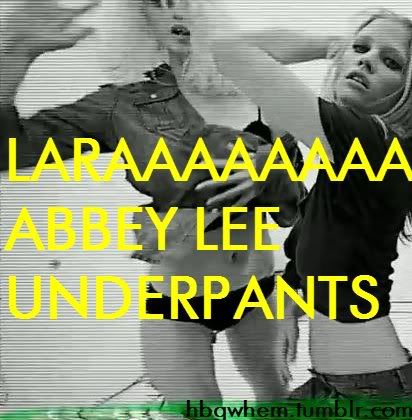 So, here I am, screaming for joy! Then SOME BULLSHIT. The picture shorts out and some guy who looks as homeless as I look is staring into the camera as some other douchebags dick around in the background.
Luckily, it cuts away and I'm like plz go back to Abbey Lee and LARAAAA, but it doesn't! It cuts to these people dancing in a room and the person in the center might be Soulja Boy after extensive tattoo removal.
THEN it gets worse! Gay dudes hijack Soulja Boy's feed and then it's a gay guy party and their leader, who… is deaf? is like Ceek Ay Wan. Da Honely Wan.
THEN it ends.
That's it.
These absolute assholes at Calvin Klien had LARAAAAA and Abbey Lee, in a room, with a working camera and they shot 5 seconds of footage. I would watch a 22 episode season of Abbey Lee and LARAAAAA in a white room with a wooden crate. Hell, they don't even need the crate. Just a white room and LARAAA and Abbey Lee, that's a commercial, that's a TV show, that's a made for TV movie, that's a mini-series, that's a straight to DVD release, that's a feature film, that's a performance art piece that could charge $11 billion dollars for a ticket.
It's not five fucking seconds of screen time.
You can't spell "WHAT THE FUCK WERE YOU THINKING?" without CK