HBGWHEM: 20.5 - MILEY CYRUS COMMITS DOMESTIC TERRORISM.
     Do you remember when the most "He's just bein' Miley" president of all time was in the White House?
     Yes, I'm talking about George W. Bush.
     He was a very good president who will always be remembered as a catalyst for truth, justice, and the American way. Plus he had a really poor grasp of the rules of grammar so I related to him.
      As we all know, George Bush was the only US president to ever have a 100% approval rating amongst the important people in America (Miley fans).
     Now, it's obvious you're a surly teen girl. I just know that. Those are the only readers I have.
     You hate George W. Bush, but let me know you some FACTS and we'll see if that changes.
      Lets take a look at some statistics.
       HANNAH MONTANA PREMIERE - March 24, 2006
       Where was George W. Bush on that day?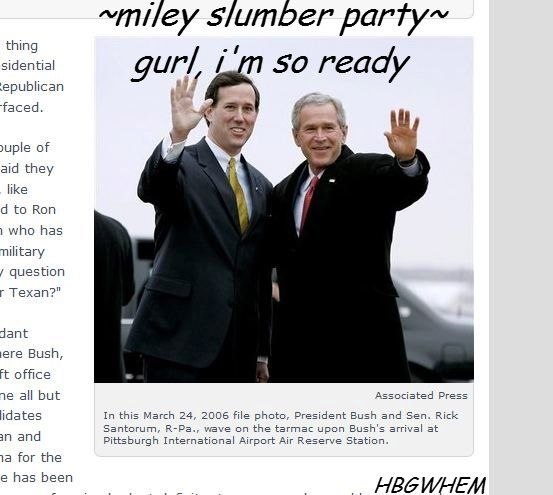 OH I DON'T KNOW, MAYBE HAVING A MILEY PREMIERE SLEEPOVER PARTY WITH RICK SANTORUM (For the people who don't know about politics- Santorum is a proud supporter of womens rights and Miley rights. If you love women, make sure you cast you vote for him.)
        Still not convinced? Let's keep digging.
      AVERAGE EPISODES PER SEASON OF HANNAH MONTANA
       * Average episodes per season length of a Hannah Montana Season under George W. - 28 Episodes! Awesome! Best ever!
       *  Average episodes per season length of a Hannah Montana Season under who ever does president stuff now - 13 Episodes! WHY! Bad luck!
       George Bush hates terrorism.
       The other one hates Miley.
       Websters Dictionary defines terrorism as:
ter·ror·ism
noun
\

ˈ

ter-ər-

ˌ

i-zəm\
"The systematic use of terror especially as a means of… oh shit, did that dude with the towel on his head just leave his luggage at this boarding gate? Is that package unattended? I mean, yeah, he's standing by it, but there's like ten feet between him and the package. Should I call someone? Should I call something? Maybe I'll just cancel this meeting. It's not that important anyways. Get your shit together, Webster. Act like everything is fine and quietly exchange your plane ticket."

       Webster was a disgusting bigot.
       But the point is, Bush is no longer our president, yet the terror continues.
       You can't even watch that girl from Princess Diaries wear a Catwoman halloween costume without worrying some crazy white kid will come in the studio and give away spoilers on Batman dying at the end. (Spoilers).
      I've always loved Miley.
      In HBGWHEM 20.0 - I celebrated Miley's 18th Birthday.
      In HBGWHEM 20.1 - Miley tought me doing drugs is cool and if you don't do drugs everyone will hate you so much.
      In HBGWHEM 20.2 - I defended Miley's BFF Anna Oliver.
      In HBGWHEM 20.3 - I introduced Miley to my muse, Gemma Lee.
      In HBGWHEM 20.4 - I became a journalist and wrote serious journal man pieces about Miley.
      HBGWHEM 20. 5 was supposed to be a celebration. IT WAS SUPPOSED TO BE A TRIUMPHANT MOMENT AS MILEY BECAME THE ULTIMATE HBGWHEM.
      Miley had worked so hard to get the acclaim that 20.5 would bring.
      I was so happy with her. Don't believe me? Here's how the piece started. It's still in my drafts.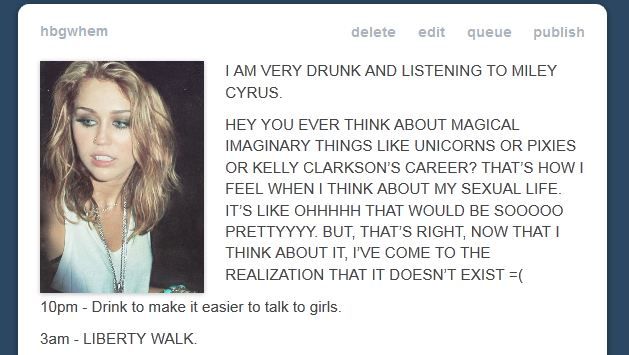 Okay, that wasn't exactly the most Miley Celebration post ever, it was more sad drunk virginy, but whatever, the point is, MILEY WAS SUCH A HBGWHEM.
      Yesterday (Or a day that is later in the past if you aren't reading this when August 12 was yesterday) I was riding high off the fact that the queen of America, Kate Moss, was closing the olympics. Not only would I get to see Kate, but I'd also never have to listen to some personalityless dickbag talk about fencing for another 4 years.
       Everything was turing up Tom yesterday, then I checked twitter and saw that Miley said she was cutting her hair.

       I felt fine about this. Miley has been improving herself like she had beaten all the hookers in GTA to death and taken their money to buy sweet upgrades. Every time Miley has stepped out in 2012, she has looked even better than the last. Why would I be concerned about a girl who knew exactly how to make my HBGWEM needs happen.
        Then she posted the picture at the top of this page (minus the memorial text) and I got really scared. I got more scared than how scared Miley would be if she found out the taco she ate earlier in the day had gluten in it. Yes. I was terrified.
        I turned off the computer and focused on the TV as Kate Moss and the Spice Girls made everything beautiful and nothing hurt.
        Then I turned the computer back on and I saw a picture of Draco from Harry Potter. THEN I REALIZED THAT PICTURE WAS MILEY.
        I felt hurt and betrayed. How could Miley do this to me? How could she do this to my blog? Did Miley even consider my blog when she did this? I'm starting to think she didn't. I was so hurt I called my pal Rick Santorum and he told me this:
        I was so thankful that my best friend was the voice of reason.
        While I respect Miley's rights to "just be Miley", this had crossed the line.
        At this point, if I had a pair of scissors and Miley was standing to my left, and to my right was Demi Lovato, I would give Demi the scissors. Yes, it's come to that.
        I'm not just worried about me or my blog or the fact we won't get cute street style pics of Miley anymore. I'm worried about Miley's well being.
        I know she says that I shouldn't worry about her, but I can't shake this image from my mind…