"…and the winner of the Golden Globe thing for best Golden Globe rundown goes to Tom from HBGWHEM!!!!"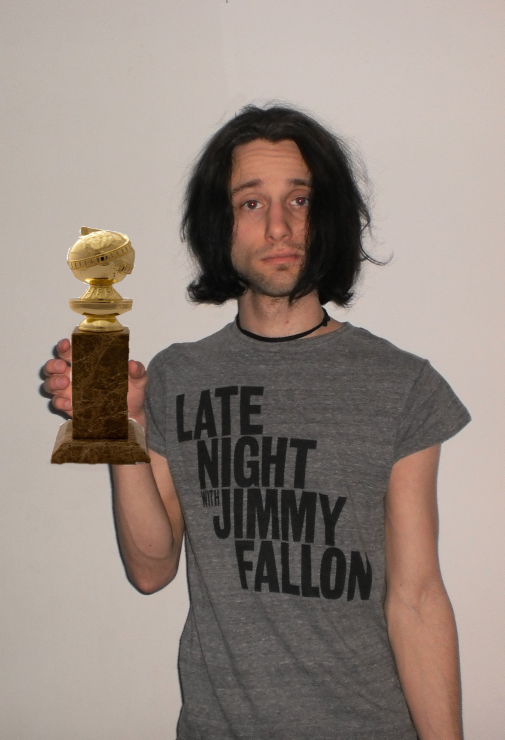 It's time for the Golden Globes! I'll be live blogging the Red Carpet and awards ceremony because my friends don't answer my text messages anymore. Just keep refreshing the page for my new notes, I'm going to keep editing this post.
   Make sure that you add your opinions to the comment section and if you say something funny, I will delete your comment and then post it as my own thoughts. LOL JK. Maybe.
    RED CARPET TIME:
Carson Daly is hosting the Red Carpet. I hope he starts telling stories about how he picked up girls from the TRL audience.
Justin Bieber is looking extra punchable tonight in purple framed glasses.
Alexia Chung is doing red carpet too. I'd like to have sex with her (yup this is the type of insight you'll be getting with this rundown)
Angelina looks super sparkly and I like it. Carson Daly was talking to her and he's like, "Hey, The Tourist, that was a movie…" and then there was a silent moment they had where they both mentally said to each other "What a piece of shit, right?"
Earlier today, I tried to watch some of the football game and a man jumped in the air and caught a football at the end of the field and it made me think, "Wow, sports!"
They just played the LARAAAAAAAA CK commercial. Jillian blogged about it like 2 days ago and since then I've watched it +/- 33 times.
Tina Fey is being interviewed now. I haven't seen this much bombing since that Iraq doc on The History Channel.
HBGWHEM 11.0 January Jones is looking good. She has virtually nothing to offer besides looking hot, but she seems to be embracing that and trying to move the interview along as fast as possible.
RPATZ is hotttttttttt. I wish he was my best friend.
Kevin Spacey is looking in the closet tonight.
I want Colin Firth to be my English teacher.
What the hell is this Sofia Vaigra lady saying?
This Abilify antidepressant looks good. I'd like to buy some. Abilify sounds like 'villify' though. How depressing.
Helen Mirrum should have borrowed a weave from, like, Monique or something just to keep things interesting.
Catherine Zeta Jones is wearing my fav dress so far. Her earrings are bangin' too.
What do I think of Claire Danes' dress?
Jennifer Love Hewitt looks like a skeeted in tissue.
Christian Bale looks mentally sound…
GIRLS, good news. Anthony Hopkins isn't dead afterall.
LARAAAAAAA commercial again. It's like a 34 second orgasm.
Whoa. The Office is still on TV. Seems excessive.
Anne Hathaway just got pulled away in the middle of the interview. She must have to go shoot another lame Vouge cover. She described Jake Gyllanhaal as a "smarty", way not to be boring, Anne.
RDJ with no tux. Good outfit. Bad hair. 
Alexa is the cutest "Thank you so much for talking to me tonight, enjoy your evening." CUTE.
Oh it's Jimmy Fallon. He paid me eighty million dollars to wear his shirt *above*. JK he didn't pay me anything, I saw Megan Fox wear the shirt once and then immediately bought it on amazon.
Michelle Williams in Valentino looks cute not sexy.
Natalie Portman has a human being inside her tummy!
Carson tried to hit on Alexa, he's like, "I have tons of VHS tapes of me being famous in the ninties, want to come over to my condo and watch them?"
Oh a commercial for "Chuck" the show that Josh Schwartz pays a shitload of attention to even though no one watches it. I'd be fine with that if he wasn't the showrunner for Gossip Girl and he pretty much didn't give a shit about the show for the entire third season and it seemed like they were forcing Humphrey to write the episodes twenty minutes before they started filming.
Who is this third wheel with Carson and Alexa? She just laughs loudly into her mic while Carson treads water.
Damn Ricky is going in.
They will never give the stage to Ricky again. This is the best award show ever.
I hope Ricky Gervais hosts everything. Anything that needs a host, please just hire Ricky.
Scarlett, while not blonde, still has a cute dress.
Christian Bale just won an award for best actor. Hopefully it comes with a shower and shave.
Christian Bale must have said a ton of terrible things about Jews because they censored his end of a speech.
Someone needs to give Elizabeth Moss a mac gift card
A lady from a show called Sons of Anarchy won best actress on TV. She's old. 
The greatest actor to ever live, BPITT looks fantastic. I'm so glad they nominated The Tourist because, if for nothing else, I get to see Brad and Angie look perfection.
WHYYYY JULIANNE. Kevin Spacey is presenting with her and his secret gayman thoughts are probably like, "Gurrrrrrrl, that dresssss, nonoNO."
Some bullshit TV movie named "Carlos" beat a really good Pacino Film on Jack Kevorkian. Fuck that noise.
Here's a transcript for the guy who gave the Carlos speech. "DUHHHHdrrrrrrDuhhhhErrrrrr."
Ricky introduced Bruce Willis as "Ashton Kutchers Dad".
Leighton Meester, what a high slit. Good makeup and she doesn't have fatface. I approve.
That gay kid that is too gay to function from Glee won best actor in a show for friendless virgins.
I'm eating pasta now and I feel like a fat person. I feel like how Christina Augliera looks tonight.
LARAAAAAAAA commercial again. It deserves the gay kid's Golden Globe. I'm sure he understands.
Michelle Pfiffer is still a HBGWHEM. I'd bang the botox out of her.
Steve Buscemi won best actor for Boardwalk Empire and Boardwalk Empire won best TV Drama. JERSEY STAND UP.
Alec Baldwin introduced Best Song and he didn't call anyone a selfish little pig. Disappointing. All the songs sucked. Burlesque won and some broad who looks like Liza Minelli accepted the award. The amazing Alexandre Desplat lost best score to Trent Reznor. Trent Reznor proceeds to give the least rock star speech ever. Even the guy from Zombieland who makes money as a Michael Cera impersonator was like "Lame." 
Justin Bieber presents Best Animated Feature with some hot chick. Selena is prob at home writing really 3mo stuff in her journal about it. How to Drain Your Dragon doesn't win, Toy Story 3 does. Beiber seems pretty happy about it. 
Emma Stone is a HBGWHEM. This is the only nice thing about that dumb Spiderman reboot. Annette Benning wins best actress in a comedy. Old.
Tilda Swinton! I loved your song "Bulletproof"! It's so catchy.
Pacino wins best actor for miniseries or TV movie and totally deserves it. Netflix "You Don't Know Jack" it's great.
Okay I like Claire Danes dress and she won best actress in a TV movie or miniseries. JLH is up for a Golden Globe. That's a bigger joke than the pic I photoshopped earlier today. She cried but her long eyelashes that are from putting that stuff on her eyelids kept her tears from reuining her makeup.
Steve Carell has the impossible task of presenting something funny with Tina Fey. I mentally check out ~30seconds in so I can't say if he's successful. Aaron Sorkin wins best Screenplay for his facebook movie script. My favorite part of the script is where it's like, "I HOPE IT'S A SNOW DAY TOMORROW SO I DON'T HAVE TO GO TO CLASS". Facebook movie so good.
Chris Hemsworth presents and award and I bet Miley is looking at the TV like, "Is that Liam? Is that my boyfriend?"
That mean lesbian wins best Comedy Actress. She thanks her track suit.
Rpatz presents best foreign language film. Something like "A Better World" won. With a title like that, I bet it's a movie about a world where everyone looks like Rpatz. Oh Zefron presented earlier and his haircut sort of sucks, but he still too good for Vhudg.
Tina Fey loses the golden globe for stupid woman to Laura Linney. Laura Linney didn't even show up because she was busy making a show no one watches.
Best actor in a comedy goes to the guy from Garden State that told Zac Braff his forehead says "Balls". I think he was on a Stride gum commercial too.
Melissa Leo??????? wins for best supporting actress for her work in a Marky Mark movie.
Matt Damon is starring in another effing movie where he just runs from government people? We get it bro, you're a slippery snake able to outrun the feds. Do a romcom or something now.
LARAAAAAAA commercial. She is going to star in a real life movie where I chase her down the streets if I ever walk by her. What a dreamboat.
OH NO ROBERT DINERO IS GOING TO HAVE TO GIVE A SPEECH. SHIT.
During Dinero's boring ass speech, they cut to Angie and she was looking at Brad with such a pure love and it melted my heart. Then they cut back to Dinero I was like, "Oh. Still talking."
There is a movie called Nomeo + Juliet. Should be interesting to watch that movie end in a double suicide.
Megan Fox.
Fincher wins for the Facebook movie. I deal with this fact by pretending that they were like, "Sorry bro we messed up not giving you the oscar for super awesome amazing Ben Button."
HBGWHEM 11.0's boobs are on full display.
Glee wins best show to watch while you're crying because you have antisocial disorder.
Halle Berry gives Paul Giamatti for a best actor award. Pretty much all of that makes me feel good. A simultanious physical and artistic boner.
They showed 2 seconds of Nicole Kidman!
LARAAAAA commercial again! Then a Green Hornet commercial with Seth Rogan rapping Coolio. I've never gone from a stiffy to a softy so fast.
Natalie Portman beats Nicole for best actress. Have you seen Natalie Portman's dress? More like Blech Swan.
The lovely Julianne Moore's movie "The Kids Are Alright" wins best Comedy or Musical. Despite her dress, Julianne has very good judgement so I'm sure this is a fine film.
Colin Firth wins best actor. As it should be.
Gwen Stefani HBGWHEM'in it up in the L'oreal commercial.
Michael Douglas presents the final award. He looked very healthy. He starred in one of my favorite movies of all time, Wonder Boys. Buy it. The Facebook movie wins best film. Facebook joke here.
Ladies and other ladies, that was the 2011 Golden Globes in review.