As you can see from the anon above, a splinter cell comprised of rogue Brazilian tumblr users has started attacking Gemma Lee.
        Gemma Lee has been through a lot since I started featuring here on HBGWHEM.
        First she had to read about herself on this blog THREE times .
        Next, her life was almost taken from her when Australia was swallowed up by the ocean in the great Sopped Crop Top Tragedy of 2011.
        Now, Brazilians.
        I don't know any Brazilians besides Trentini, Gisele, and the guy who empties our trashcans at work. Gisele and Trentini are almost six feet tall. The Brazilian Trashman is 5'1". He knows three languages, French, English and Portuguese. Seven times he has informed me that Portuguese isn't a language, it's a secret code. He laughs after he says that. It seems like the "That's what she said" of Brazil. If I ever meet Trentini, I will say that to her.
         I often ask the Brazilian trashman for other facts about Brazil that I could tell models and he could only inform me that they have a woman president and that when it's summer here, it's winter there. LIKE AUSTRALIA. COPY MUCH, BRAZIL? Then he told me how to open the coconuts at Whole Foods and I'm like "How the fuck do you shop at Whole Foods, but I get shooed away if I start to angle my body in the general direction of the Whole Foods next to the Bestbuy on Springfield Ave." He laughs, then usually tries to get some gum unstuck from the guys trash can who sits next to me.
        Clearly the Brazilians have a rivalry with the Australians… and it just esculated FAST.
        GEMMA LEE'S TUMBLR AND TWITTER HAVE DISAPPEARED.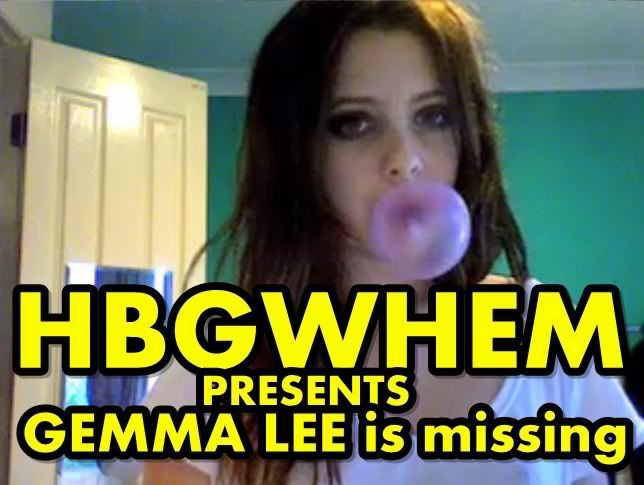 We're all worried now that Gemma has disappeared from the internet.
        Gemma has been up to so much since we last profiled her in the history pages of HBGWHEM. So much has changed. 
         First off, HBGWHEM has gained like three followers, so thank you gay pornography / pictures of Paris Hilton DJ'ing blog. I commend your dedication to a theme on your tumblr. Some people like their page all earthtone editorials or black and white photography. You have pared your theme down to men being sodomized and Paris Hilton standing next to turntables- which is pretty restrictive, but also very cohesive. Your follow was very warmly received, unlike the penis' jammed in that gentlemans mouth on your page. 
          Second, Gemma Lee, based on her growing HBGWHEM fanbase, became a series regular on… some Australian show that wasn't Summer Heights High. I'm just going to assume it's like the Australian Degrassi and Gemma Lee played the one character without AIDS. This means she was the "edgy outsider". It also means she wasn't allowed to participate in gym class. Gemma Lee once posted a screenshot from the show, which, hopefully, was called Gemma Lee Takes Television or maybe something not as subtle. Maybe just GEMMA LEE in all caps with lasers shooting out of the legs on the E's and the lasers were murdering peoples uptight liberal parents. 
          Next, Gemma Lee + The Wannabees, Gemma Lee's band, has broken all the previous music records they set earlier and I think they might actually release a song soon. 
          Next, two of the axis of evil groups, the Brazilians, and the gingers, have teamed up and overtaken gemmalee.tumblr.com 
          Go there. But don't. But for serious, go there.
          As you can see, a ginger and Brazlian Boo Boo Stewart have taken over Gemma Lee's web presence and turned it into some sort of thing that I can't tell if it's legit, or if it's like those emails you probably get from time to time that are from some bootleg name like Cory Williams. They have a subject like "Hello There". You're like, "My circle of friends is so sad I bet I am friends with someone named Cory Williams, and they think that 'Hello there' is an acceptable way to start a conversation," so you open the e-mail and you see it's just a link. At that point, you never click the link. I bet, if you did click the link, it would take you to the Brazilian Booboo Stewart's tumblr.
        Their side information is "Faith, friends, photos, tea, Edgar Allan Poe". Gemma Lee's blog didn't contain any of these elements, except for, like, photos, but it's hard to hate a photo of Gemma Lee (if you aren't Brazilian) so it would be unrealistic for Gemma Lee to hate photos and not include them. 
         I wanted to add some pictures to this post because that's seems to help when little white children go missing, so I looked in the Gemma Lee tag on tumblr to see what was there. Other than my linguistic triumphs, there was this one video, in three different posts (love tumblr ppl) that was tagged with "Gemma Lee" and "Australia" and I was like yessss this is Gemma Lee + The Wannabees new video.
        IT'S NOT. It's some shit called "Muther Of All Things by Joe Morris" and I still don't know how to
post videos
so here is a summary in picture form:
          Here is a summary in word form: This video is
posted on vimeo
so it must be very "kewl kids klub" and indie. There will probably be a titty popping out at some point. It doesn't matter. My body, my life. We're young. We'll never look this good again. Unless we start doing paladies. Then we might look better. Or we might just get muscle tone. No one wants to get too Klossy. 
            So I start the
video
and some bitch who isn't Gemma Lee wakes up and she does that Ke$ha thing where you can wake up feeling like someone and you assume their indentity and you make a dance rap song or summik. Within the first few seconds of the song, the music says "Target Commercial", but the lyrics literally say "Dead Babies", which is probably why it's on vimeo. The band was like "Okay, we can either say "pretty ladies" here and get the video on youtube, or we can say "Dead Babies" and we will have to post it on vimeo." The lead singer stopped pushing his target cart full of dead babies and was like "pretty ladies" is good, lets use that, but somehow in post production it said "Dead Babies" on the the song, probably because the souls of the babies haunt this track (in lil Mossimo brand jumpers). 
           Then the video gets good and they cut to some HBGWHEM reading Vogue AUS and that literally lasts shorter than a baby's life at Joe Morris' house because some bogan starts hippie dancing on a skateboard. I bet when she rode by someone said, "That is vimeo as fuck". They reveal that the girl who stole Gemma's identity, lives in a trailer, but it is a chic bogan trailer where you don't dwell on the fact that there is no running water so you have to shit outside, like you're an animal; or in a bucket in the center of the room, like you're Lady Gaga. The middle part of the video is just people doing menial bullshit like holding a soda. THEN *MNIGHT TWIST* the bogans are lesbians who love BBQ and showing each other their dime sized tattoos. "A sun, that is the first sun tattoo I have seen in all of Australia" one of the bogans seems to say, but we can't hear because Joe Morris' girlfriend won't shut the fuck up. Joe Morris might be a band that is two people. Like Mates of State, but more into infant brutality. Or maybe equally into it. That one Mate of State looks like he could go AWOL at any moment.
         One of the bogans is doing chores, watering the grass, but she is like JK "I DONT DO CHORES! FUCK YOU MOM, YOU SLAG!" then she sprays her friends with the hose and the girl who stole Gemma's personality seems afraid of the running water. Next they go in the pool to wash the water off. The other girls drink by the pool, but not the HBGWHEM because she has to be alert for when she drowns both these dullards she calls friends. Then they surf because they probably couldn't find a bowie knife to complete all the Australian cliches. Is a bowie knife called a bowie knife, is that how it's spelled? It seems like anyone who owns a bowie knife, probably would like to see Bowie knifed. The HBGWHEM builds a fire because she is smart and not drunk. She remembers that her friends have tattoos and those markings will distinguish them when CSI comes, so the fire will char everything beyond recognition. At the end, there are credits. They are all very small, but if they try to contend that Gemma Lee was involved in this in any way, I hope their vimeo account gets shut down forever. 
         Clearly, between the Brazilian anon hate, BrazBooBoo Stewart and the stealing of Gemma Lee's identity to further the bogan initiative, we MUST find Gemma Lee and we MUST bring her back to the internet.
        If you have any information (Oh my gosh, please don't send me anything, this is just a bit, I'm really not this creepy) regarding the whereabouts of this girl, please use the SUBMIT section of HBWHEM.
        Thank you and God bless Australia.