The much hyped HBGWHEM 19.2, 20.2, 22.2
Prepare yourself for dirt, scandal, leaks and other things that will hopefully be so interesting that it turns your hair blonde.
With the beginning of 2011 upon me, I reflected on my life.
I started thinking about my writing. Since no one wants to publish my shitty manuscripts, everyone always tells me that the only way I will escape the business world and achieve literary greatness is if I become a reporter.
This is a topic that I briefly explored in 2010.
The catalyst for my experimenting arrived when my friend told me he had inside information, like the type of inside information that sent HBGWHEM Martha Stewart to jail.
I took the inside information because cake makes people fat and I figured I'd rather be skinny in jail, than fat and free. Obesity is the worst prison there is.
The inside information was that hulu was tired of giving away episodes of "Human Target" and other piece of shit shows that no one really watches, for free. His source said that hulu would start charging money for the shows on some sort of subscription thing, sort of like how you pay for a year of Vogue, except, instead of getting this amazing magazine filled with HBGWHEMs every month, all you get with HULU Plus is all (?number?) of seasons of Human Target on demand. You don't really need these episodes unless your life is really that shit that you need to watch Human Target on demand and if that's the case then save your money for a bottle of Windex and drink that instead of getting hulu Plus. It's cheaper and will probably make you feel better than an episode of Human Target.
I thought, "YESSS, this is my time to become a journalist. I will write a piece about this and then everyone will read it and I'll get other jobs being a journalist, like Clark Kent. Maybe I will fuck someone that looks like Teri Hatcher, except not old and not brunette and with a better wardrobe and with better makeup and hopefully with a less creepy smile."
I sat down at my computer and started thinking, "What should I call this article about hulu being cheap bastards and asking for even more money?" Then I found my title and instantly fell in love. The title also destroyed my dream of becoming a journalist.
"hu jew"
That was the name of the piece I wanted to write. You can't write a journalistic piece like that because journalists can't be funny or acknowledge stereotypes of even make a comment on what is going on like, "What a bunch of greedy fucks those HULU guys are, am I right?" because apparently that's editorializing and that's not allowed in journalism. Plus, I'm pretty sure the only people that read HBGWHEM are jewish girls so I didn't know if that would offend them or whatever.
After my hujew meltdown, I gave up on journalism, that is until NOW.
As you can see, there is now a Tips Line on the HBGWHEM page. It's a place where you can go and send me information like, "I saw STAM at the airport and her eye makeup looked really good. Do you think she flies in an airplane like the rest of us or does she use her Victoria's Secret wings to get from place to place?" or "If Liu Wen was blonde now, but still Asian, could she be a HBGWHEM? I've attached a photo of her at a deli for you to review."
I'm not sure if you can attach photos to the Tip screen and I'm not sure if Liu Wen would dye her hair blonde and I'm not sure if an Asian can be a HBGWHEM, but the point is, this new tip line turned out to get me…. a tip!
One of the Wannabe's contacted me about HGBWHEM 19.0, Gemma Lee!
If you haven't caught up, catch up. Gemma Lee is the most famous musical act in the entire world (besides BritBrit, but that's something, like, obvi). Ever since Gemma Lee and the Wannabe's realeased their debut single, "11 Year Old Us", it has broken every record ever.
According to the information that I have read in Musical Industry Monthly magazine there was some sort of problem with the music industry because one of Mark Zuckerburgs friends created Napster and you could download any song ever. They made a movie about it called The Social Network that will probably win all the Oscars besides the lady Oscars because there probably weren't any girls in the movie since it's all about computers and the music industry. After I read about the music problem, the next magazine I got was like, "LOL JK. The music industry is fine. Gemma Lee saved us all and we made a bunch of money and now Napster costs money because they wanted to make sure that Gemma Lee gets paid for all her hard work." If you don't believe me, here is an old white person to repeat this information: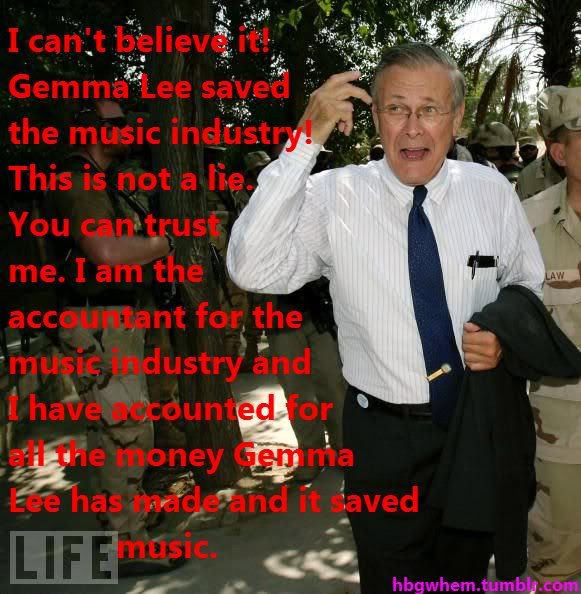 This doesn't make for a very interesting Behind the Music on Gemma Lee and the Wannabe's so they had to jazz it up and it just so happened that someone jazzed in my "Tips" section! I looked at the tip jazz and it was from the singer of Gemma Lee and the Wannabes! She was really mad that she was the lead singer, but everyone was like, "Yeah, great whatever, we like the song because of (Find out what part of the song Gemma Lee was involved in and paste it here)." This made the wannabee very mad and she said she could give me information on Gemma Lee.
After a couple of gchats I was able to convince the wannabe to tell me some information she had. She told me, specifically about some computer information that only Gemma Lee or Zuckerberg or Zuckerberg's Napster friend could get their hands on.
The wannabe refused to provide the information.
I said that I was a reporter, like Clark Kent, except I wouldn't fuck Terry Hatcher like Clark did in Lois and Clark.
This seemed to earn her trust and I was given access to the wannabe's hard drive.
I quickly found a folder entitled, "Top Secret; Don't Leak This Because They Already Like Gemma Lee Way More Than Me And This Will Make Them Like Gemma Lee Even More And That's, Like, Scientifically Not Possible, But Gemma Lee is Immune To Science."
I clicked on the "Top Secret; Don't Leak This Because They Already Like Gemma Lee Way More Than Me And This Will Make Them Like Gemma Lee Even More And That's, Like, Scienfially Not Possible, But Gemma Lee is Immune To Science," folder and…
Inside. Was. This.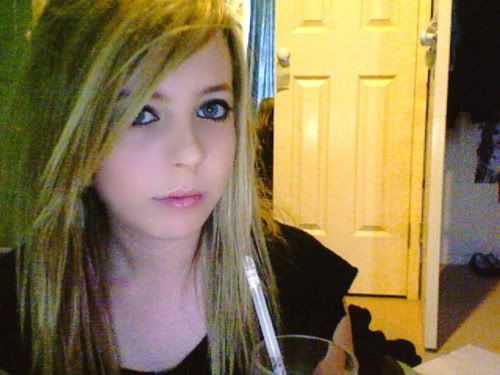 Oh yeah, that's right, I just leaked a photo of Gemma Lee as a BLONDE.
I told you I had exclusives. I'm like one of those mixtape DJ's that gets the new Eminem song and then they scream all over it and do that thing where they are like, "Hold up! I don't think they fuckin' heard you! Bring that shit back!"
I was gonna write that on a picture, but I didn't want to destroy the perfection that is Gemma Lee as a blonde!
After I found this, I was like, "Fuck your hard drive, you jealous wannabee, I would never leak information about a HBGWHEM," and then wannabe was all like, "No, but wait! I'm a jealous whore." That's not an exact quote, but it distills the impression I got of the wannabee as she tried to take down Gemma Lee.
With the information that my instinct were corrects and Gemma Lee is a blonde, I felt like I had to leak the photo immediately since people were attacking me in my ask box for including a non-blonde HBGWHEM. Then I found some information.
Someone submitted another Tip!
I promised not to give out the source of who sent this classified information. No. Seriously. Not going to tell you. Not ever going to let you know who would do something this insensitive and leak personal stuff from Miley.
In the Tip Line thing was a video (not sure if you can really attach a video, hoping you can) and the video was this:
More leaks! Look at that, I'm like that creepbag guy who runs Wikileaks and seems to be really popular lately!
Miley had released the album of 2010 and she was pissed that Gemma Lee and the Wannabe's waltzed in right at the end of the year, before every blog puts together their "Best Of" posts and put out the best piece of music ever made!
I can understand Miley's frustrations, her album fucking rules. All the songs are good, but she saw that she had to up the ante and it was either put out an awesome ass remix with a video pasted together with clips from her shit ass macbook, or to send me a picture of her vagina in my Tips section. She probably knew that I would just wank to the vagina pic and then fall asleep instead of leaking it so she went the way of the awesome remix.
I was listening to this a ton and then ANOTHER tip came into my Tip box.
This one was massive.
It was ground breaking.
It was earth shattering.
(Click the pic to enlarge for the full story)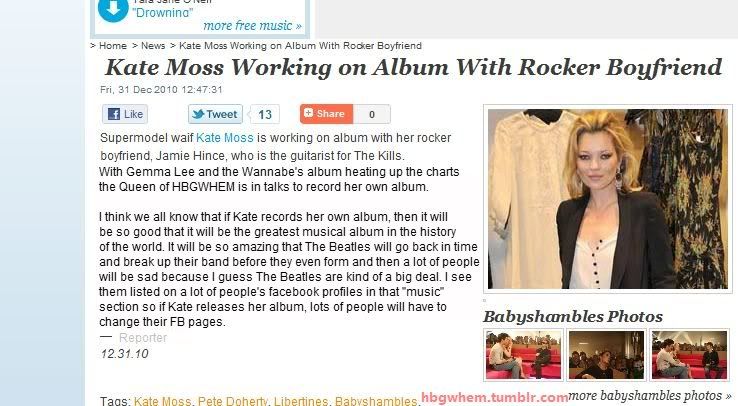 I had no choice. When faced with a crisis of this magnitude, there's only one HBGWHEM that can help.
JESS FUCKING STAM.
I called her and told her what happened and she sprang into action.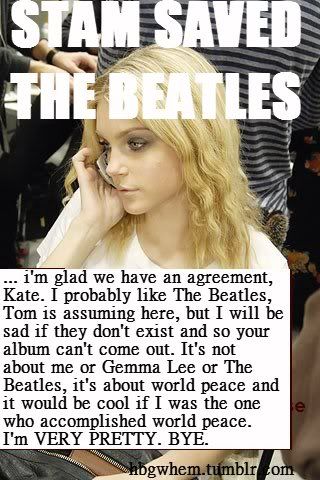 With that all resolved by the super pretty JESS FUCKING STAM, I just needed for Gemma Lee to do something so that Kate felt okay about her album not coming out. After all, Kate is the queen of HBGWHEM and you don't just get JESS FUCKING STAM to call Kate and crush her dreams, even if it will save some overrated band of shitdicks with bad haircuts and wack music.
Gemma Lee was more than happy to help because she realizes that JESS FUCKING STAM went through a lot of trouble to make calls and she feels like she owes JESS FUCKING STAM because she saved tumblr and Gemma Lee has a really good and popular and cute and fun tumblr page.
So Gemma Lee posted a CUTE ROOM TOUR with one very extra special photograph…
This was included by Gemma Lee as a nod to Kate that says, "Sure, I may have saved the music industry, sure STAM may have crushed your dreams because she may or may not like the Beatles, but I'm Gemma Lee and I look up to you, Kate. My accomplishments are inspired, dedicated and only possible with Queen Kate."
And all was well as 2011 began. A clean slate. A bunch of exclusive leaks getting me more followers. JESS FUCKING STAM with a massive cell bill for all that international calling from the USA to AUS to the UK.
As you can see, I am the greatest reporter ever. Even better than Truman Capote when he wrote that book and then they made a movie about the book and they made him BFFs with that lady who wrote To Kill a Mockingbird. I'm that good.