Man, look at that, I got two .1's in the same title. Tom runs the greatest blog about blonde people, besides all those millions of other blogs that actually have pictures of blonde girls, instead of 33 straight paragraphs of me talking about how great I am.
Maybe I'm just a little excited? Maybe I just found out that Gemma Lee; HBGWHEM19, just became AN INTERNATIONAL POPSTAR. That's right, in (however many months it's been since I wrote that really good piece on Gemma that tonsss of people clicked on) Gemma has been able to capitalize on  her fame from being a HBGWHEM, and blossom into a full-on popstar. I've heard people say that Gemma is the Justin Timberlake of Australia. But then they are always like, "I mean the old JT, like the, 'BritBrit broke my heart,' guy. Not the super faggy N'SYNC JT or the, 'I'm an actorrrrrr guysssssss forget about my jeri curlllllll,' era JT that we have to suffer through now."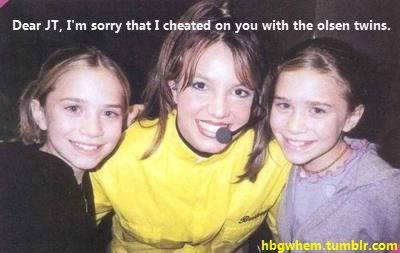 I had to make up the name of the band because all of this is so new. I know that Gemma Lee is the leader of the band, but there is also another person(s) in the band so I've deemed them Gemma Lee and the Wannabes. Gemma Lee is the Gemma Lee part of the band and the rest of the band is the Wannabees. They don't mind being called this, I'm sure, because every time they are hanging out with Gemma Lee, they're all considered wannabe Gemma Lee's anyways.
Without further stalling, I present to you the music video for Gemma Lee and the Wannabes – "11 Year Old Us".
Tom is still investigating on if Gemma Lee is singing on the song or if she's playing the music type parts. Calls to Gemma Lee's agent were not returned or, if they were, it was just messages like, "Tom, what the hell is wrong with you?"
If she's singing, Tom is going to say; The vocals really make the song. The inspirational message of the song seems to be the driving force. It starts off strong with lead singer, Gemma Lee, like, "It's Gemma Lee on this mic and bitch I'm here to tell you, I'm the shit," and then she's here to tell us a bunch of other stuff. Even though the tempo of the song totally changes, Gemma's vocals bring it all together. Without Gemma's vocals, this band would be just another Australian band covering… Keith Urban songs?
If she's playing the musical stuff, Tom is going to say: The musical shit really makes the song. The drum beat really drives the energy. The fact that Gemma Lee can also play the guitar or whatever that other instrument is, as she plays the drums, just shows how Gemma is way more talented than the singer. What is the singer eating a PBJ in the middle of this song? Someone get the lead singer an ice water because she's messing up Gemma's musical genius.
The public reaction to "11 Year Old Us," has been explosive in Gemma Lee's native Australia. Look at the Australian Billboard Top 10 Singles.
Gemma Lee and the Wannabes – 11 Year Old Us
Keith Urban – I get to Kiss Nicole Kidman.
Kylie Minogue – Tom Thinks I Might Be Australian, But I Might Just be British
Keith Urban – I've Seen Nicole Kidman Naked Too.
Hugh Jackman & Nicole Kidman – We Freed the Slaves in Australia, WTF Have You Ever Done?
Keith Urban – It was Awesome.
* People who accidentally spelled Gemma Lee and the Wannabees with 2 E's and so they bought the single again because it sounded fucking awesome and they were tired of buying Keith Urban records. *
Keith Urban – Have You See The Hours? I'm Married to the Lady From That!
Mel Gibson – Smile and Blow Me

Kylie Minogue – Tom is Pretty Confident I'm Australian, He's Almost Sure I am.
People might complain, "What's with this video? It just looks like a black screen. We like Gemma Lee because of her good outfits. Where are the outfits??" and while we empathize with you, do you really think we could handle the infectious song, "11 Year Old Us," combined with pictures of Gemma Lee? Not a chance. It would be like the Runaways without the lesbian looking bass player. Too much, too much.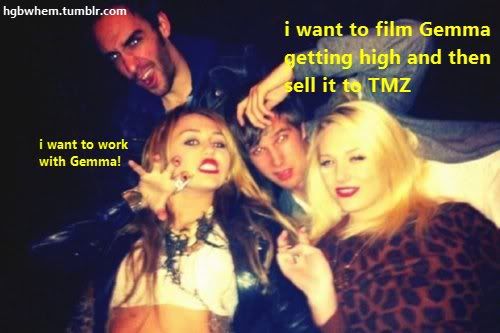 Tom has been able to score an exclusive interview with Maddison Maxwell at Australian Billboard about the impact of Gemma Lee's new single on the music scene. We've had a HBGWHEM intern transcribe the audio so you can read how the convo went down.
Tom: So how big of a record is the new Gemma Lee and the Wannabes song?
Maddison: Well, just to give you some perspective, the highest selling record in Australia is Keith Urban's "Wanna Smell my Girl Hair" and it sold like 8 trillion copies because it was really catchy and he had that video where Hugh Jackman would smell his girl hair for, like three minutes and nineteen seconds or however long that classic Australian song was.
Tom: I feel like that was just a really long statement without saying Gemma Lee's name.
Maddison: I was trying to make you wait to hear it.
Tom: You were inspired by Gemma Lee's new video, right?
Maddison: Yes.
Tom: Well you're not Gemma Lee, you're just some wannabe from Australian Billboard.
Maddison:* Noise of a gun cocking and being inserted in her mouth. *
Tom: Maddison, I'm sorry that was harsh to remind you of these facts, I'm sure most wannabes find this topic to be sensitive.
Maddison: (Holding back tears) Okay, as I was saying, Gemma Lee and the Wannabes new single has already sold more copies than Keith Urban.
Tom: More copies than the Keith Urban song, 'Wanna Smell my Girl Hair?'
Maddison: No, Gemma Lee and the Wannabes have sold more copies than EVERY Keith Urban song.
Tom: …
Maddison: …
Tom: …
As evidenced by the Billboard figures and our interview with Maddison, Gemma Lee and the Wannabes are taking over Australia, so it's only a matter of time before the record blows up over here in New Jersey. The last music video featured on HBGWHEMTV was Shanon Leto's Hurricane and now, due to HBGWHEM's exposure, it's widely considered the best video of the year according to all those bullshit end of the year lists that every blog does because it's no work and everyone will comment in the bottom section and you'll get a million hits for doing nothing. You want to know HGBWHEM's top 10 videos of the year
Gemma Lee and the Wannabe's – 11 Year Old Us

Gemma Lee and the Wannabe's – 11 Year Old Us

Gemma Lee and the Wannabe's – 11 Year Old Us

Gemma Lee and the Wannabe's – 11 Year Old Us

Gemma Lee and the Wannabe's – 11 Year Old Us

Gemma Lee and the Wannabe's – 11 Year Old Us

Gemma Lee and the Wannabe's – 11 Year Old Us

Shanon Leto and the Leto's – Hurricane

Gemma Lee and the Wannabe's – 11 Year Old Us.

Keith Urban – Wanna Smell My Girl Hair?
Yess. Now that I have a year end top 10 and HBGWHEM19 was my post popular article of the year, I can effectively say, "LATER SLUTSSS I'LL BE HERE COLLECTING HITS ON MY BLOG. MIGHT ADD A GOOGLE THING THAT PUTS REALLY ANNOYING ADS EVERYWHERE TO MAKE TONS OF MONEY. Until then, stay hot, go blonde and panda your eyes.
(All pictures from http://gemmaleee.tumblr.com/ Add her, follow her, buy her upcoming record "Blonde on the Inside".)
(Well, that one Keith Urban pic wasn't from Gemma Lee's tumblr, that was from http://itouchednicolekidmansboob.tumblr.com/)