OH NO OH NO MILEY DID DRUGS WHAT DO I DO HOW DO I PROCESS THIS INFORMATION IN MY FRAGILE MIND???

Here's how.

Do Salvia.

I've never done Salvia before and I don't know what Salvia does to you beyond making you feel like you see Liam Hemsworth, but do it in copious amounts of it if you ever want to be a HBGWHEM.
Look at what it's done to HBGWHEM 20 Miley Cyrus.

BEFORE SALVIA (Taken from JustJared Nov 12th)

She's all, "I feel sick and I'm sad that I don't see my boyfriend anymore, I wish there was something that I could inhale to fix these problems."

Then her best friend Leslie is like, "HEY IT WAS JUST MY BIRTHDAY AND MY PARENTS BOUGHT ME A (BAG?) OF SALVIA AND A VIDEOCAMERA! WE SHOULD USE THEM, ONE AFTER ANOTHER OR MAYBE POSSIBLY TOGETHER AND IT WILL HELP YOUR CLOTHES AND YOUR FEVER AND YOUR ACHY BREAKY HEART AND WE MIGHT BE ABLE TO LOSE THIS CREEPY BUSINESSMAN WHO IS LOOKING AT OUR BUTTS AND MAKING THAT WEIRD MOANY NOISE."

So Miley was like, "Okay, fuck it, I feel like shit and I love videocameras and drugs that have a pretty solid underground following."

So this happened:

Okay. It took way too long for me to find the video code for the Miley Cyrus video on the TMZ website so here is a dramatic reinactment of what happened.

The video is crappy and dark Miley has her top on *sadface* and she is chilling with a bunch of people who don't have faces, they just have circleheads. They might be Aliens or maybe they are CGI. This might be a clip from a movie. One of the circleheads puts on a Bush song which might mean the Miley movie takes place in a post apocolyptic world where all music has been destroyed besides one Bush CD so they have to make due. Miley is holding a bong that someone has already chalked up and one of the circlefaces lites it and they are like, "Okay clear it," but Miley really just puts her mouth on the bong and then moves it away so they are like, "Again!" and this time she gets a little smoke on the inhale. The circle faces are like, "Hold it in," so Miley immediately blows it out. Then Leslie is like, "Hey, you should lay down for a bit and talk about this because I'm going to sell this video to TMZ so I can purchase an expensive purse with the money I recieve from them in exchange for this video." Miley is like, "Worddd. I'm having a bad trip," and then the guy next to her is immediately like, "NOOOOOO," maybe because he worked really hard on the trip he planned for Miley and she was just confirming his suspecions that if Miley can't be tamed then she certainly can't be entertained by Bush records and inadiquate floor lamp light. Miley gets up off the sofa, maybe because she felt awkward about the trip comment and she's like, "Is that fucking Liam Hemsworth?" because I've researched salvia and seeing Liam is how you know it's working. She has a conversation with herself to affirm the possible Liam sighting and it goes, "Is that Liam Hemsworth? Is that the star of the popular tween film about my, I mean, the character Ronnie's father getting cancer? Oh no! I just gave away the end to The Last Song! The dad has cancer! Yeah. I know. Right? Isn't that the exact same plot as 'Life As a House'? Who cares about Life as a House though, that didn't have as good of actors as The Last Song and the main boy who played the character of the rebellious tween ended up ruining all the Star Wars movies. The only thing Last Song ruined was Greg Kinnear's career, John Travolta's beard's career and Liam Hems- HEY that guy looks just like Liam Hemsworth!" No one seems to react to this. The circle face who planned the trip offers Miley some Frosted Flakes in the hope that it will salvage the bad trip. She seems to decline them. Leslie tells Miley to discuss how she feels on Salvia because Leslie wasn't able to smoke it since her camera work is already shit and if she got high it would be even worse. Miley growls at a boy, then says, "J/K", then I think she auctions something off.

Welp, sorry I couldn't post the whole video, but I couldn't figure out how to link it so if you go to the TMZ site, you can find it.

Today was the first time that Miley was seen publically since we went on a "Hemsworth" as they call it (Slyvia slang is going to be all the rage)

AFTER SALVIA (Taken from TMZ from today (12/12)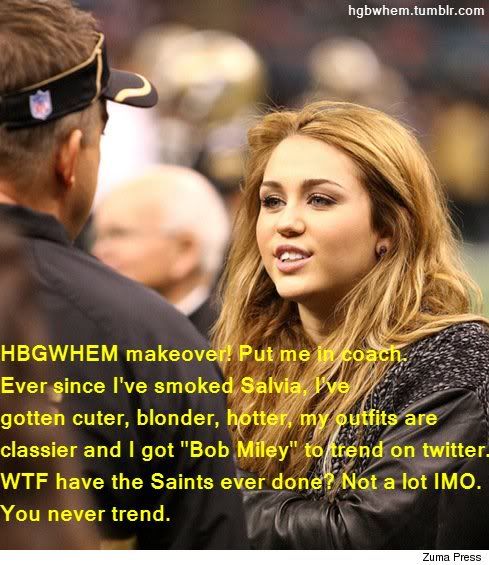 As you can see Miley looks fantastic! There is a clear correlation between her Salvia use and her hotness. You're a gross brunette and your parents won't let you dye your hair? The answer to your problem is simple! Smoke Salvia! Do you dress like a dumpy Vanessa Hudgens, but you don't have money for new clothes? Buy some Salvia and smoke it, your black sweatpants will turn into whatever good pants Miley is probably wearing in this pic!
If you're smart, you will say, "Yes" to Salvia, "No" to Frosted Flakes.

*And yes, I did see The Last Song since HBGWHEM 20.0. I gotta say, it's not that bad. I even cried. Miley fights a racoon, gives Greg Kinnear cancer and the entire movie she sees Liam Hemsworth which leads me to believe it's the best drug film since Fear and Loathing.

Until next time, bleach your hair, fix your makeup and smoke Salvia.