(EDITORS NOTE: The use of "brunette" in this blog does not purtain to HBGWHEM 19.0 or any of my lovely brunette followers. You all get more beautiful each day, it truly astounds me.)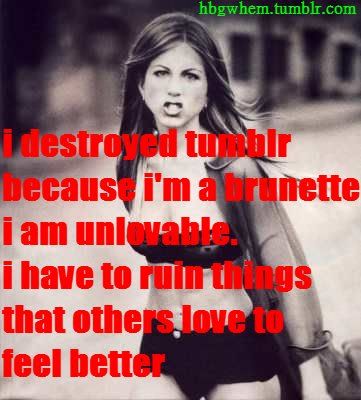 There was once a blogging platform called tumblr, created by (probably someone Asian or Indian) and this blogging platform was considered to be the best (better than blogspot, way better than xanga, extra better than a geocities account that you made a html page, then just decided it was your blog even though it didn't even have basic blogging features like tagging). Everything on tumblr was happy and Harry Potter and Mean Girls lived in perfect harmony.
   Then the brunettes learned about it.
   At, like, maybe it was the morning or maybe it was the evening yesterday, but whatever the time it was, I wanted to see some kittens and pictures of blonde people doing nice stuff like drinking coffee or smoking a cigarette or maybe tugging their t-shirt up a little bit so you could see their ribs or something perfect like that.
   Instead I got a message that was all, "WE MISPLACED OUR DATA PACKETS THINGYS AND WE CAN'T FIND THEM AND BUT WE'LL BE BACK IN A MINUTE". As soon as I saw this, I knew what was up. Brunettes found out about tumblr and destroyed it like they have destroyed things in the past. Here is a quick review of things brunettes have ruined:
   1700s? Ceaser - Rome
   1990 - Sofia Coppola - Godfather Part III
   1999 - JC Chasez - N'SYNC
   2003 - G.W. Bush - America
   2009 - A bunch of brunette porn sluts - Tiger Wood's Marriage
   20010 - Anon Brunettes - Tumblr
   How did the brunettes knock out tumblr for all of 2010 (okay, maybe it wasn't all of 2010, but I'm rounding up)?
   They messed with the database clusters.
   "What does that mean?" I had one of my blonde friends ask me and I was like "Exactly! Exactly! You and I mind our own business! We just relax on tumblr, think about how attractive we are, tumblr some pictures of Anna Selezneva and then maybe click the lil heart on someone's post because it sounds like they might try to hang themselves with their thong and we'd really miss their tumblr posts if they were gone."
    Do the brunettes use tumblr like this?
    No!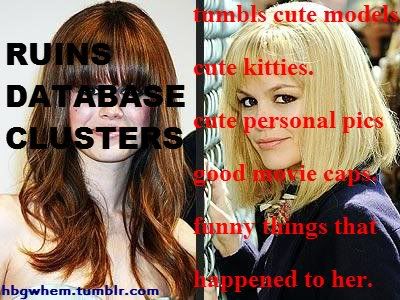 They violate databases. They misplace clusters. They put up vague messages like, "Oh, back in a flash!" and then they don't come back for like 29 hours. You know how in the movies, when the girl wakes up after crazy sex, she looks over and the guy is gone and she makes that face like, "Oh no, used like a bus station skank again," but then she sees a note that says something like "Out of coffee, back in a couple," and she waits and like a scene later, he's back with coffee. Imagine if he left the "back in a couple" note and then was gone for 29 hours! Imagine if during that 29 hours, the girl couldn't look at kittens or mittens or even pictures of Abbey Lee, unless she google imaged them, but have you been to google images lately? It's a MESS. I bet a brunette is in charge of the database clusters there.
   Let's look at the positives now though. Tumblr is back. The database is re-clustered and once again I get to come here and I can see everything that inspires all of you.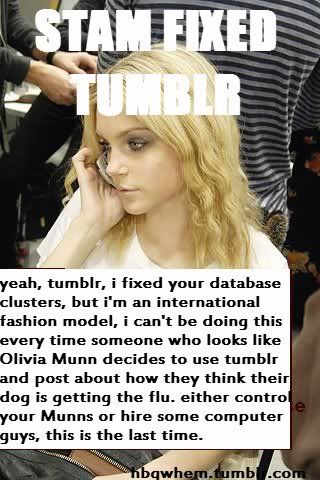 I missed you, people I follow and followers.
   If the brunettes attack again, remember, stay hot, stay blonde and redo your makeup in the ladies room to make sure it's perfect.