THE NEVERENDING SEPTEMBER ISSUE REVIEW. Part4.

    They say great things come in fours… umm…. the fantastic 4… how many Boyz ii Men members were there…probably four…. and… doubles tennis? Does that still exist? Am I thinking of pong?

    Yeeeesh. Okay, no good things come in four. The Fantastic 4 is really only cool because Invisible Woman and the Human Torch, Boyz ii Men are only cool because deep voice monologist and doubles tennis probably is pong and pong is irrelevant so with the brand new installment of my Hot Blonde Girls With Heavy Eye Makeup September Issue Review, I will finally make something that has four parts that isn't unnecessarily overblown and crowded.    One could argue that the September issue itself is unnecessarily long, but they are probably also fans of that bullshit skinny guy in Boyz ii Men who couldn't even fill out his white overalls, so forget them.
    When we last left the September Issue, we were going through the Neimen ads. If you didn't catch it, click here for the review.
    Get out your September Issues at this time. They are probably heavily dog eared after four different sessions, but that's okay. You probably already opened all the perfume samples and rubbed then on your wrists, then smelled your wrist while you watched a HBGWHEM Princess-less Gossip Girl and thought, "Why oh why don't they make the 'It Girl' spinoff with a full hour of pretty little J being pretty little J?"
   Alright now that you have the issue, flip about a quarter of way in (page numbers have become useless at this point. Even the second (third? fourth?) index we pass by a couple installments back didn't have a page number). Don't worry we'll all end up in the same place because about ¼ of the way through the magazine, you'll see those big ALDO letters which you now associate with JESS FUCKING STAM.

    In the first STAM picture, she's sitting on jukebox, dressed like Chloe Sevigny, which I don't view as a bad thing, but Chloe Sevigny must be pretty pissed at STAM because it's sort of like Chloe went to the prom in a dress she liked, then JESS FUCKING STAM showed up at her prom in the same dress and then no on really cared about how quirky Chloe was because, hello, JESS FUCKING STAM is at their prom. Everyone expected to just chill, drink a Zima and maybe slow dance to Rod Stewart, which seems more Chloe's pace, but then STAM shows up and it's like a mob scene and people barely even dance to the Ja Rule Feat Ashanti and Fat Joe song because they are all watching STAM be pretty.


   In the second STAM picture, she is playing a tiny saxophone. Do I really think STAM can play the tiny lil saxophone? OF COURSE. I bet STAM could sell out a venue for her tiny lil saxophone recital. I'd go on Craiglist and be like, "Hey everyone, I have two tickets to see Biggie and Tupac perform together for the first time in like 11 years and I'd like to trade them for tickets to STAM's lil saxophone recital." and no one would answer because even the idea of a posthumous Biggie and Tupac concert can't beat the idea of seeing JESS FUCKING STAM in real life. Plus, people are probably curious as to if a lil saxophone sounds as cute as JESS FUCKING STAM's cute lil voice. I'd get into more detail (because you can never talk about STAM too much) but that is going to require a full HBGWHEM post to do it justice.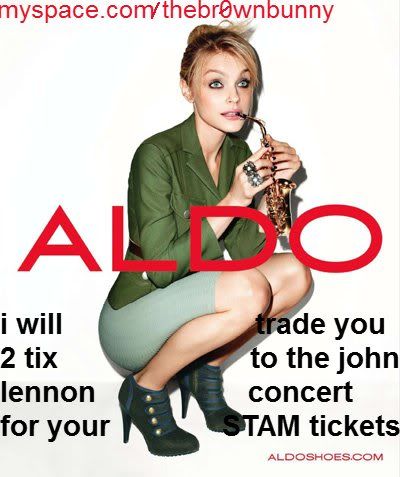 Now skip, skip, skip ahead and you'll find that the third (fourth? fifth?) index has a page number! We are officially on page 212. You will know you're there because the opposite page has the worst Calvin Klein ad I've ever seen. Flip past this tedious ad, skip, skip, skip and you'll find page 226, the fourth (fifth? sixth?) index which knows it has to up it's game because, by this point, you've seen like 84 index pages so this index needs to employ shock and awe just so you'll keep paying attention. Well… index 77 doesn't disappoint… on the surface. When you reach page 226 you are drawn to a giant red box on the bottom of the page. Inside the read box a headline reads, "Caught in the Act" and you immediately think Ohhh Juicy (Not the Juicy campaign we discussed in part II), so you look to see who was caught in the act and you see a picture of Serena Vanderwoodson and then above her head it says "Video".
    You quickly put all of this together and you think "Caught in the Act" + Serena + Video = Vogue is the greatest magazine ever and they filmed a secret sextape of Serena Vanderwoodsen for this year's September Issue. You begin to wonder why you've been wasting your life, reading indexes and pondering Neiman's when you could be watching the Serena Vanderwoodsen sex tape. Let's just hope it was with Nate and not Lonely Boy.


    Of course, you read on. Of course, you find out that they are calling Serena Vanderwoodsen, "Blake Lively" which is probably like an alternate identity that Serena has, the Johnny Storm to her Human Torch and the red box crashes and burns and it's like, "Hey do you want to watch Serena Vanderwoodsen pretend she is a girl named Blake Lively and walk around Paris at some couture shows? What's that? You don't? You want to see a tape of her boning Nate Archibald. Um. Sorry to bum you out, but go to Vogue.com if you become desperate enough to watch Serena Blake-around Paris for three minutes and forty four seconds."
    As we skip, skip, skip, I will say that Tommy's new campaign isn't half bad. I like a like of the clothes (less homie more preppy) and I'd actually wear some of that stuff, if, for no other reason, than to feel 15 again.
    Finally, on page 240, we make it to the letter from the editor.
    What a dumb move to put the letter from the editor after JESS FUCKING STAM appeared. I don't want to read some stupid letter. I want MORE STAM. I want a letter from STAM. That's what the September Issue needs to do next year. Give Anna the month off and let JESS FUCKING STAM write the letter and it doesn't have to be about fashion or about the issue, I'd accept ANY letter from STAM. I'd read the whole thing, twice. Hell, the letter could be years old. It could be a letter she already sent. It could be anything.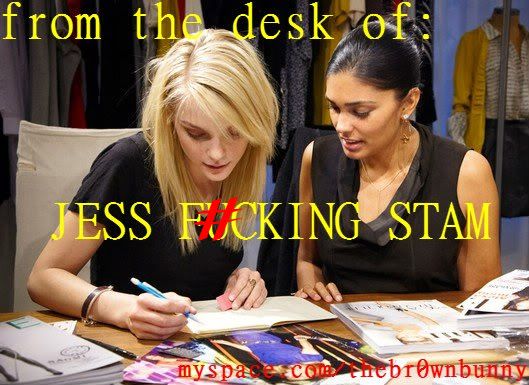 "Dear Mom,    
   Summer camp in Canada is good. I'm having a lot of fun. I shot a moose with a bow and arrow. I felt bad, but everyone complimented me on how my archery is improving. When I grow up, I'd like to be a model/Robin Hood. I think I'd be very good at that. I wouldn't rob the rich though, because obvi I'm going to be a super rich model, hello, look at me and I don't want to rob myself because then that would show signs of dissociative identity disorder. We learned about that problem here because my best friend, Alexa has it. Well, I guess she's technically my best friend only like 44% of the time. You know how I like my space though, so the friendship works well. I've had to retrieve her half of our friendship necklace from the duck pond, tennis court, a hole near the basketball court, under a Snickers in the canteen, twice from other girl's necks and one time there was an arrow in the target and the necklace was around the arrow.
      By the time I found it and brought it back to Alexa, her personality had switched back to my BFF so she was very grateful for me retrieving our friendship necklace.
    We do a lot of hiking, everyone hikes behind me for some reason.
    I've taken up playing an instrument. I play the cute lil saxophone. I wanted to play a regular saxophone, but everyone said it wasn't cute enough and I either had to play a tiny acoustic guitar or a tiny saxophone. Some fat girl pointed out that tiny guitars are played by Hawaiians a lot and we all agreed that I'm way better than a Hawiian so I got the tiny sax.
    Hope everything is okay at home. Tell lil sis that I'm sorry she's not me! Maybe she can, like, learn to cook lots of yummy things so she can eat away her troubles!    
Miss you… Love,    
     JESS FUCKING STAM."


Read more: http://www.myspace.com/thebr0wnbunny/blog?bID=539824013#ixzz1247uzpOr