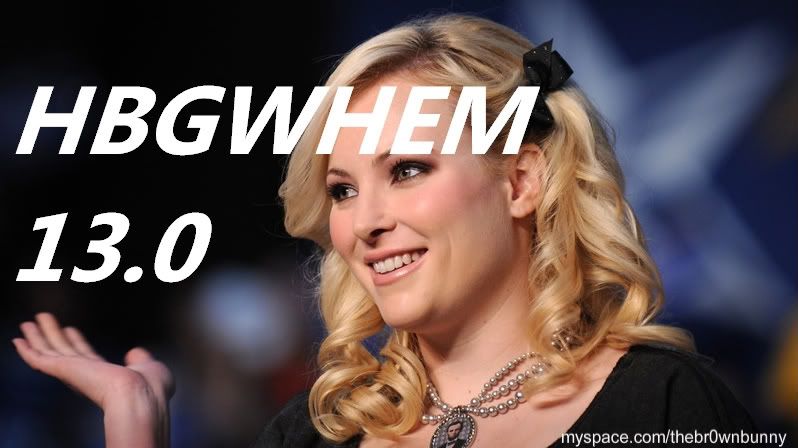 Now I know you're thinking, "Tom, How could you so blatantly endorse a political party when you know that hot blonde girls with heavy eye makeup come from all walks of life?" and this is true, HBGWHEMs do not belong to a single political party, in the same way they don't exclusive hail from one country. Now that I think about it, even Africa gave us Charlize Theron, and really, who saw that coming?
  I understand your concerns about political affiliations and whatnot, but, come on, have you googled Meghan Mccain?   She is smokin' hot.    I would still make Meghan Mccain HBGWHEM13.0 if her platform was that babies should be used as an alternate fuel source. It doesn't matter that she has the correct opinion on stem cell research, gay rights, abortion and other important issues, what matters is her google image portfolio.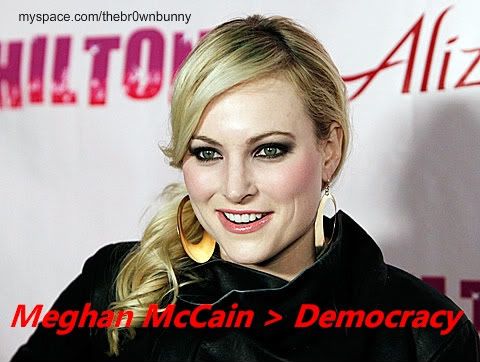 During my "researching" of Meghan I came across a youtube video of her on the view. Now, keep in mind I could only watch 34 seconds of the program before my mind shut down from a combination and pity and boredom, but Meghan was flawless when she was introduced and she managed to sit there the entire time and listen to the ladies on The View talk over each other for like 6 MINUTES. I know this because I skipped to the end and Meghan was still present. I'm not sure what Lib group forced Ms. McCain to go on The View, but I think that this torture should be illegal in America. It's only fair we outlaw sending pretty girls on The View if we've outlawed waterboarding. I'm not sure if water boarding is illegal or not, I just saw it mentioned on yahoo news a lot last year so I'm gonna assume someone is making it illegal.   I'm against waterboarding, unless water boarding is where you take one of those foam surfboards and try to ride waves in the ocean.   If waterboarding is the poor mans surfing, then let me be the first to say, I'd like to go waterboarding with Meghan McCain. Meghan and I could relax by the beach, catch up on our reading and then enjoy a beautiful afternoon waterboarding.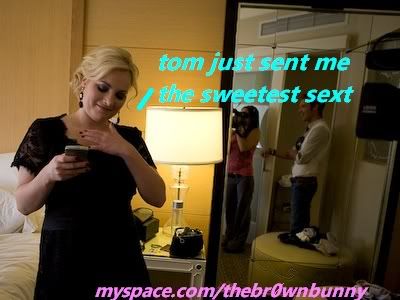 While on the beach, I would read Meghan Mccain's book which I found out was called Dirty Sexy Politics. I don't have a copy of the book and I've never read anything from it, but here is a transcription of the daydream I had when I read the title;   
"I, Meghan Mccain, was all sweaty from hanging out at the beach with Tom. Waterboarding with him was exhilarating. I turned on CNN to stay aware of the current political situations and then I took off my bikini to get ready for my shower. I began running the water and normally I take hot bathes, but today I wanted a cold shower. I think Tom was partly to blame for this, I was so worked up, but we still had to make it through dinner so I had to be a good girl. As soon as I got under the stream of the water, my hot blonde-girl body tensed from the water, as it rolled down my porcelain skin. My unblemished body, white like the caps of the ocean while waterboarding, felt so refreshed by the shower. I began to towel off my blonde hair and then I grabbed some lotion out of my travel bag…"


   As you can see from the excerpt, Meghan loves to get her pale white skin all sweaty at the beach and then take cold showers. Oh and she is into politics too because she totally turned the TV before all that other hot stuff happened. Best book ever.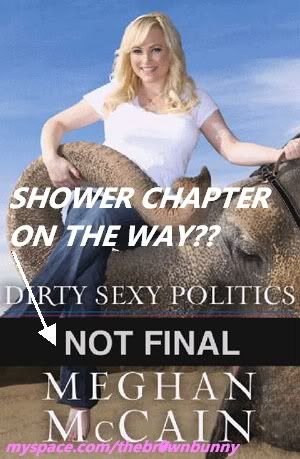 Now, just because Meghan is really super smart and has a book out doesn't mean she's snobby like Dr. Phil or other world famous authors like Dr. Phil. Meghan keeps company with other HBGWHEMs like Heidi Montag, ex-Hills cast member and current Spencer Pratt hostage.
  I have no facts to support this next statement, but I'm going to leak to the press right now that Meghan and Heidi have a new reality show that will take place completely on beaches and hot tubs in the LA area. I know it's early, but I imagine this show might take over the collective TV conscious now that Lost is gone.   
  It will have all the sandy beaches of Lost, but then more HBGWHEM's in bikinis, drinking rum, waterboarding, laughing, gossiping and applying suntan lotion.   I also found out that Meghan is best friends with occasional HBGHWEM and full time psychopath, Courtney Love. Don't worry, from the parts of Meggy's book that I've made up and pretended where excerpts, she has a very good head on her shoulders and she knows the difference between good and Courtney Love.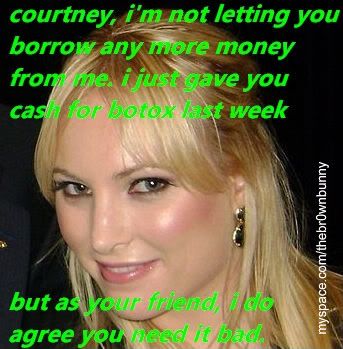 In conclusion, America is hurting right now. Not due the super awful economy or that social unrest part, but because it's been so long since we've had a hot blonde girl with heavy eye makeup in the white house. The HGBWHEM the White House experienced was Marilyn Monroe and she pretty much had to be snuck in the back door or another top secret passage that they made just in case the aliens come like in independence day. Isn't it time we had a HBGWHEM back in the white house?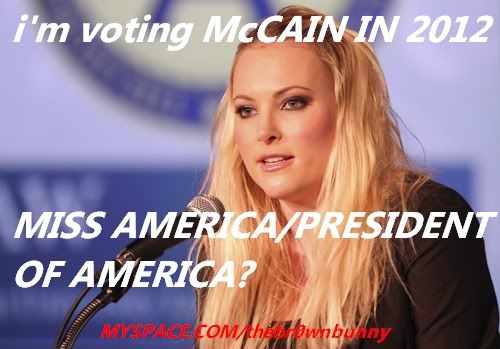 Read more: http://www.myspace.com/thebr0wnbunny/blog?bID=539354831#ixzz10IyBUthn