HBGWHEM 44.1 Hot Blonde Gucci Grrls W/ Heavy Eye Makeup
You know how everyone makes jokes about Viagra and if you have erections longer than 4 hours to call your doctor? Well that's how I felt when I saw Gucci's Spring 2012 Milan Fashion Week show!!! Sadly I can't maintain an erection very long so the comparison might not be the best but w/e.
I also have to admit something.
GUCCI CAME TO ME TO DESIGN THE CONCEPT FOR THIS SHOW!
Editors note: The above sentence is a lie.
Editors note: Not everything above is a lie though. The not being able to get a sustainable Doctor worthy erection thing is pretty spot-on.
So the creative director of Gucci- gonna assume he's a foreign gay guy for this story, might not be accurate, but lets be real, how can it not be accurate- came to me and said, "TOM," because that's my name. He said, "TOM, we have a problem. We need your help. You run the best blog in the history of tumblr and we want you to design the look of our new show."
I agreed to do it because I am great and will help Gucci out with their image issues.
The creative director of Gucci was like, "We have an image problem. We surveyed a bunch of white people-" and I asked, "Like the Family Feud does?" and he was like, "NO. Well, yeah, but don't discuss the Family Feud in the presence of the Gucci people."
I can only conclude that the employees of Gucci went on the Family Feud and lost to a bunch of Payless Shoes Employees so they were sensitive about the issue. The poor Gucci ppl were beat down with chants of "BO-GO! BO-GO!" from the Payless employees. Life is tough.
The Gucci Man said, "We surveyed white people and asked them what they thought of when we said "Gucci" and an overwhelming majitory said, "Basic Bitches wear that shit so I don"t even bother."
I wrote this down in my little notebook I was carrying because I guess this meeting happened in person or something, who knows.
Then the Gucci Man was like then we asked a ton of black ppl what they thought of when we said, "Gucci" and they said, "What's Gucci my nigga? What's Louis my killa? What's drugs my deala? What's that jacket, Margiela?"
I didn't write this down in my little notebook because I already got in trouble with that agent that wanted to sign me until she saw there was a SINGLE use of "nigga" in one of my manuscripts. I assured the Gucci Man that the question was rhetorical and that Gucci's brand recognition was high in the urban community.
NEXT, it was time to give Gucci my ideas.
I went into a boardroom and they said, "Okay Tom, we need an image for our Milan Fashion Week show and you can do anythin-"
And then I interuppted and screamed, "-DAPHNE GROENEVELD."
That scared all the Gucci people. They were like, "What we're trying to do is-"
"-DAPHNE GROENEVELD" I demanded again.
Some old person was like, "No Tom, I don't think you understand-"
"-DAPHNE GROENEVELD?" I asked. "Of course I don't understand DAPHNE GROENEVELD. That is like DAPHNE GROENEVELD understanding math, which, not to make assumptions, I bet she is pretty shitty at because she's like everywhere and also she's like 11 years old so when the fuck could DAPHNE GROENEVELD realistically learn math? I didn't do shit in high school and I still have to use my cell phone to figure out how much tax will be on a t-shirt."
Everyone was looking at me so I was like, "On a Gucci T-shirt, of course," then I was like, "Yessss I saved myself," and I said that aloud and everyone was just happy that I wasn't CAPLOCKs screaming of, "DAPHNE GROENEVELD."
So they accepted the DAPHNE GROENEVELD suggestion, just to get it over with.
Next was the choice of eye makeup, "Momsen that shit," I immediately said and a lady was like, "Excuse me," and I was like, "You're excused," and then I stared at her for what must have been a minute.
They agreed to Momsen the girls. Then they were like hair and I was like, "Platblonde or I quit," and the bitch lady was like, "Maybe that's not a bad idea," and I was like, "None of my ideas are bad ideas. My ideas are the DAPHNE GROENEVELD of ideas."
And everyone was awkward because I was yelling again.
Butttttt there is a happy ending!!!!
The day of the show came and everything was perfect!!!!!
Except one thing. I'm not going to say what because I'm a professional.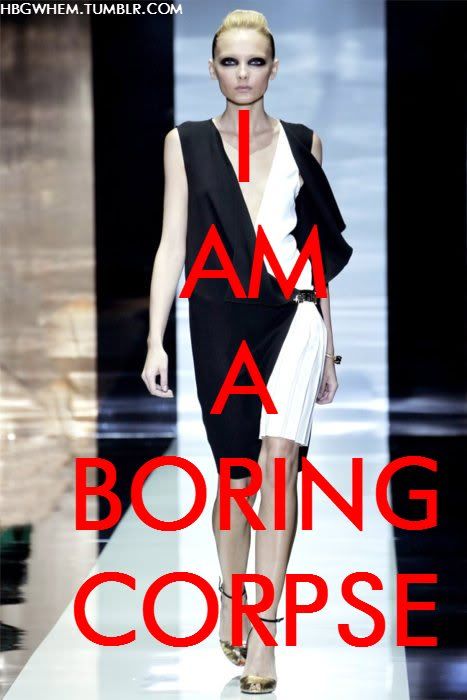 Also one of the models that was going to make her runway debut never made it because she was so shitfaced off vodka. She was someone I had featured on this very site and I plucked her from the scary Midwest and brought her to Gucci. Unfortunately, this model was too drunk and she just sat in a corner, with an apple, stroking its skin and repeating "I'll protect you from Wixson's teeth."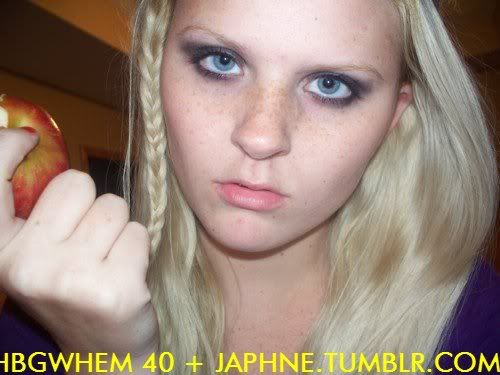 Again I'm not going to say who.
At the end of the day, the show was a four hour boner, I mean the best ever.
If you want to see pictures go to: http://www.vogue.com/collections/spring-2012-rtw/gucci/review/
I hope that if agents keep rejecting my novels, I will have a future doing fashion shows like this one!!!*
*Note all fashion shows will be identical to this one in every way except way more Kate, way more Trentini and I will also walk next time.
P.S.
HOW FUCKING TERRIBLE ARE THOSE HIGH WAISTED PANTS!>!>!> KILL ME NOW.
P.P.S.
BOW TO ABBEYBABY